Managing teams
To take part in a team contest, you must be a member of a team. You can create your own team and invite registered Yandex users to join it, or you can join an existing team (any team member can send you an invitation).
A team can have any number of members. When registering for a contest, you can choose who will participate in the contest from your team.
All team members have the same rights. Any member can change the team name, manage its composition, as well as leave the team.
Teams are managed from the Teams page.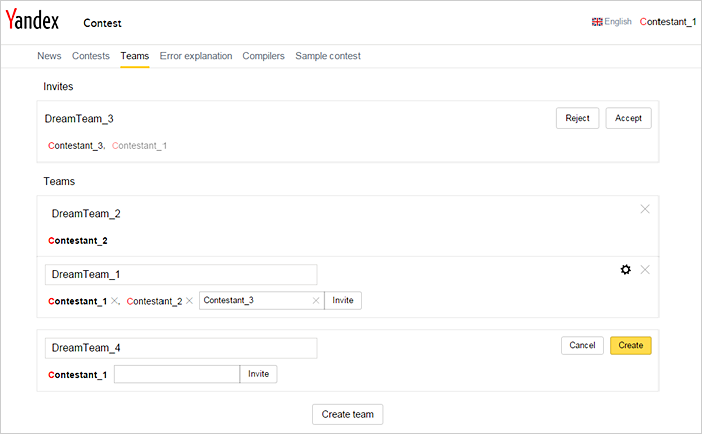 Creating a team
To create a team:
Click

Create team

. The team creation block will appear on the screen.

Enter the team name in the upper field.

Add Yandex users to the team. Every user is added separately. Enter a

user's username

in the lower field and click

Invite

to send an invitation. The invitation will be sent to the user and it will be displayed on their

Teams

page.
The usernames of all team members are displayed under the team's name. The usernames of users who haven't replied to the invitation yet are displayed in gray.
As soon as the team is created, you can register it in the contest. The team can be registered, even if it doesn't yet contain the number of members required for the competition. You can also change the list of your team members after registration, right up until the start of the contest.
Editing a team
To edit a team, move the mouse cursor over the team block and click the

icon in the top right corner. You can change the team name, invite a new member or remove a current member, as well as withdraw from a team.
All changes are automatically saved as soon as you enter them. Click the icon again to exit edit mode.
Deleting a team
If you want to delete a team completely, first delete all of its members. Otherwise, you will just leave the team, and the team itself will not be deleted.
To delete a team, click the

icon in the top right corner of its block.