Org structure
On the Org structure page, you can set up departments: create accounts for employees, assign them to departments and subdepartments, and appoint managers.
Creating and editing a department
To create a department at any level of the org structure, click

at the bottom of the column and select Create a department.
In the window for creating a department, enter the following settings:
Name of the department, from 2 to 40 characters.

Email address for the department (for example, "managers@example.com"). The department email address is used for quickly adding the entire department as email recipients, in a Yamb chat, or in a list for accessing a folder on Disk.

The address must have at least 3 characters. It can consist of numbers, Latin letters, underscores, and hyphens (but it can't begin or end with a hyphen).
When creating a department, you can change the parent department that is set by default. If you leave Parent department empty, the new department will be created inside the All employees department.
After you've created a department, you can change the name or description, or appoint a different department manager. You can also move it up or down a level. To do this, select the appropriate item in the department properties: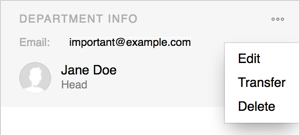 Managing employee accounts
To create an employee account, click

at the bottom of the column and select Add a person.
Required information:
Name and Last name, which will be visible in the shared address book, in chats, and in the department structure.

Birth date.

Gender.

Login that the employee will use to log in to Yandex.Connect, which will be this person's email address (for example, login@example.com).

Password for logging in to Yandex.Connect and One more time to confirm the password.
By default, the employee will be assigned to the department that was selected when you clicked Add a person. You can change the department in the window where you add the employee. You can also add contact information that you want to be visible on the employee profile: Twitter account, Facebook page, and so on.
After creating the account, you can:
Edit all the information exception the login.

Block the account (not allow this login to access Yandex.Connect services).

Move the employee to a different department.

Make the employee a company admin – grant permissions to manage departments, other employee accounts, and company settings.
Transferring employees between departments
To move employees to a department, select this department in the org structure and click

at the bottom of the column for this department. In the menu, choose Transfer people.
The Transfer people to window opens. Here you can list all the employees you need to move (begin typing the name or last name, and choose from the suggestions).