Departments
You can recreate your company's internal structure in Yandex.Connect: create departments and sub-departments, add employees, and appoint department managers.
If your company has an email domain linked to it, each department automatically gets its own email address (mailing list). You can use this address to send email to all users in the department or quickly add them all to a group chat. Only the company administrator can change the department structure.
Create a department
To create a department:
At the bottom of the page, select Add → Create department.

In the window for creating a department, enter the following settings:

Name of the department, from 2 to 40 characters.

Email address for the department (for example, "managers@example.com"). The department email address also acts as a mailing list since emails sent to it are received by all department employees.

The address can include numbers, Latin characters, underscores, and dashes (however, it can't begin or end with a dash).

Restriction.

Mailing lists are only available for companies with an

email domain

.
When creating a department, you can change the parent department that is set by default. If you leave Parent department empty, the new department will be created inside the All employees department.
Editing or removing departments
Once you've created a department, you can change its name or description, appoint a different department manager, or move it up or down a level:
Click in the department profile and choose one of the options: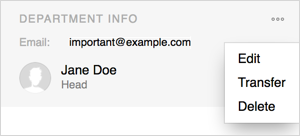 Add employees to departments
To add an employee to a department:
Click at the bottom of the department column.

Select the appropriate option:

Add employee — creates a new employee account in the department you need.

Move employee — transfers an existing employee account from another department.