Share a link to a file or folder
Files or folders must be shared in order for others to view them. Yandex.Disk lets you generate a direct download link for each file or folder.
How it works
Any files and folders in the Disk root directory or your personal folders can be shared. To share a mail attachment, copy it from the Mail attachments folder (in the menu bar at the top) to another Disk folder.
Attention.
You cannot share a file or folder located within a
shared folder
if you do not own it or have
read-only
authorization.
The public file link will continue to work until you make the file private. Disk will generate another link if you decide to share the file or folder again. If you already have access to a shared file and the Yandex.Disk web- or mobile-app sends you another public link to it, it will be the same link that was generated when the file was shared the first time.
If you share a file or folder link with other Yandex.Disk users, they will be able to save your file or folder to their Yandex.Disk.
Attention.
Users can download a shared folder to their PCs as an archive file as long as the folder does not exceed 50 GB.
To view all shared files and folders, click the Links button on the upper panel.
You can also enable comments for shared files. This way users you share a file with can leave comments, answer them, and mark that they Like or Dislike a file or comment.
To enable comments:
Open a shared file by clicking on the link that was generated.
On the panel to the right, click and turn on the

Allow comments

option.
If someone Liked or Disliked your shared file or left a comment, you will see a pop-up notification in the upper-right corner of the screen. This information will also appear in your list containing all your notifications. To view all your notifications, click

. If you don't want to get pop-up notifications about likes or comments, click

and turn off the appropriate options.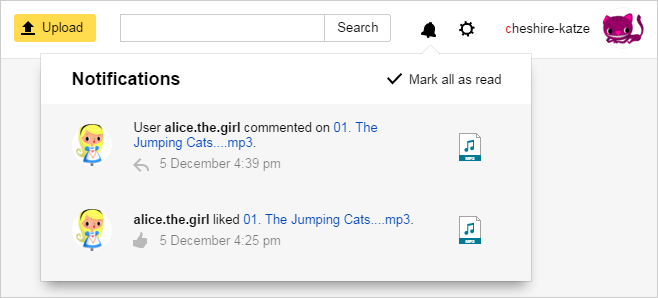 Share files using the web interface
Select a file to share.

In the panel on the right, set the sharing option to On. You will have the same option when you upload a file to Disk.

Copy the link that appears using one of these methods:

Click the link and select

Copy link

in the menu.
Click the link, and then press Ctrl + C.

To get a QR code link, select the appropriate menu item.
Share through the mobile app
Share files with the
"Yandex.Disk"

web app
Access to a shared file is restricted or forbidden
Access to files on Yandex.Disk may be restricted for everyone apart from the owner due to violations of the User Agreement. These restrictions may be imposed on shared material that violates current legislation, the terms of the User Agreement or the rights and legal interests of third parties (including copyrights). We recommend you read the Yandex Terms and Conditions.
Please use the contact form to reach us if you're sure that a file does not violate the User Agreement.
These recommendations didn't help
If you have followed all these steps and your problem persists, or if your question is not in the list, contact customer support using the form below.