Photo and video auto-uploads
You can configure Disk to automatically upload photos and videos from any storage device (camera, smartphone, memory card etc.) using the Yandex.Disk app for Windows or Mac OS. Simply connect the device to your computer and all the photo- and video-files stored on it will be automatically uploaded to the "Camera Uploads" folder. This folder will be available on all Disk apps and the website. You can also get to this folder from the panel on the left: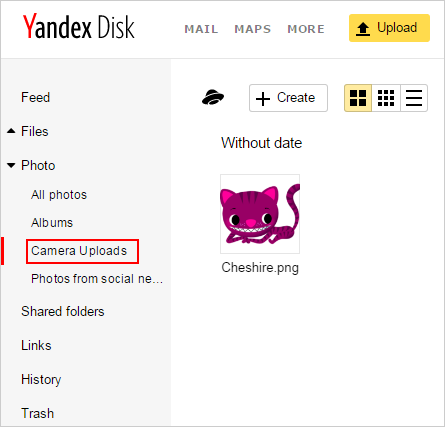 Photo and video auto-uploads are also available with the Android and iOS apps.
Attention.
The Camera Uploads folder cannot be modified. If you rename, delete or move the
"Camera Uploads"
folder, a new folder with the same name will be created in its place and all your photos and videos will be uploaded there.
When new photos or videos are automatically uploaded to Yandex.Disk, you will see a pop-up notification in the upper-right corner of the screen. This information will also appear in your list containing all your notifications. To view all your notifications, click

. If you don't want to get pop-up notifications about auto-uploads, click

and turn off the appropriate options.
You can get a public link to the "Camera Uploads" folder or share it. All the files uploaded to this folder will be available to everyone you share the folder with or send a public link.
If you don't want to store your photos and videos in the "Camera Uploads" folder, you can move them to any other Disk folder. Yandex.Disk will only upload new photos to this folder.
If you have used all your available space on Yandex.Disk, you will not be able to upload new files. Files already uploaded on Disk are not blocked. They will still be available for viewing, downloading, sharing and so on.
I have a problem with auto-upload in the mobile app
I have a problem with auto-upload on the desktop