Purchase additional storage
You can buy additional storage on Disk for one month or one year. Go to the Get more space on Disk page, choose the package size — 10 GB, 100 GB, or 1 TB — and pay for the service with a credit card (Visa or Mastercard).
How it works
The additional space you purchase is added to what you already have (i.e. the total free and paid Yandex.Disk space that you had before purchasing more space). For example, if your Disk was 12 GB, after purchasing an additional 100 GB of space, your total space will increase to 112 GB.
Note.
If you have multiple accounts on Yandex, make sure that you are logged in to the account you want to buy extra space for.
If you use Yandex.Money, you can only pay for space on the account that your Yandex.Money wallet is linked to. You can't pay for a different account using your wallet.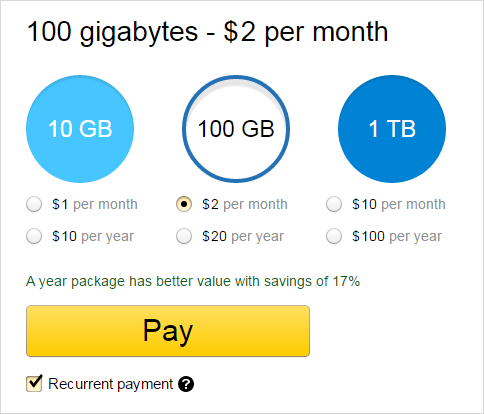 The following package settings are applied by default:
Term —

"one month"

. To buy extra space for one year, set the option to

per year

.
The

Recurrent payment

option is turned on. If you only want to purchase additional space once, turn it off.
Can I buy several packages at once?
Yes, you can buy any number of the same or different packages. If, for example, you need 3,5 TB space for the Disk, purchase three 1 TB packages and five 100 GB packages.
An error occurred when purchasing additional storage
The majority of payment issues occur on your bank's side. Unfortunately, we receive error messages without any additional information.
Here are some common reasons for payment errors:
Invalid credit card information. Check the credit card number, expiration date, CVV/CVC, and name on the card and then try processing the transaction again.

Insufficient funds available in account.

Card is inactive or expired.

Transaction limit exceeded.

Your bank does not allow internet transactions.
Note.
If none of the reasons listed above apply to you, contact your bank's customer support to figure out why your card payment is not going through. Customer support information can usually be found on the back of your card towards the bottom.
Extend payment
You can extend payment for a selected package at any time. If the current package is still valid, the new one will be activated after it expires.
To extend payment, go to the Get more space on Disk page and click Extend next to the package you want.
You can automatically extend payment for a package. Just turn on the Recurrent payment option. In the future, the cost of the selected package will be automatically debited from the card attached to your account. You will receive notices about successful or failed payments in your Yandex email account.
Attention.
One-time payments cannot be repeated. If you want to extend your package automatically, you can buy the same package and enable the
Recurrent payment
option.
You can cancel automatic payment extension at any time on the Get more space on Disk page. To do this, click Recurrent payment → Cancel repeated payment next to your package. In this case, you can keep the space you've paid for through the end of the pre-paid period.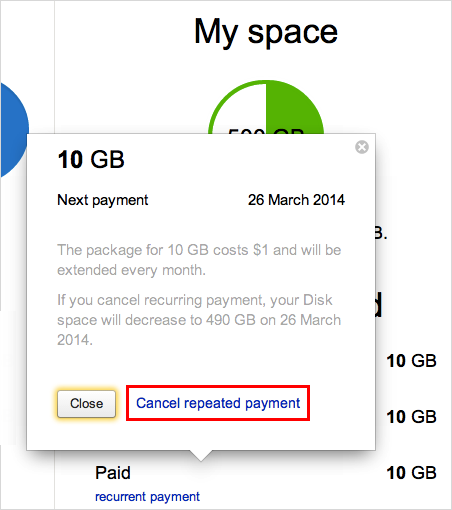 On the Get more space on Disk page you can also view the day when your paid space expires. We will send an upcoming expiration notice to your Yandex email account close to the expiration date for your package.
Package expiration
If your paid package expires, you will no longer be able to use the unpaid space. Files saved on Yandex.Disk are not deleted or blocked, even if they exceed the total size limit. You can still view, download and share your files.
However, you won't be able to upload any new files if your total file size exceeds the available limit (until you free up space or purchase additional storage again). To free up space, you can delete files from Yandex.Disk or move them to folders on your computer that are not synced with Disk.
These recommendations didn't help
If you followed the recommendations but the problem persists, or if your question is not in the list, contact the support service.