History
This section displays your event history (i.e. all actions that have been taken with files and folders on your Yandex.Disk recently). From your History, you can:
View what happened to files that you can't find (you might have moved them to another location or deleted them).
Make sure that the history only displays your actions (to ensure that only you can access your Yandex.Disk).
Quickly navigate to files and folders that you recently worked with.
You can search for events from your History by using the search bar or filters.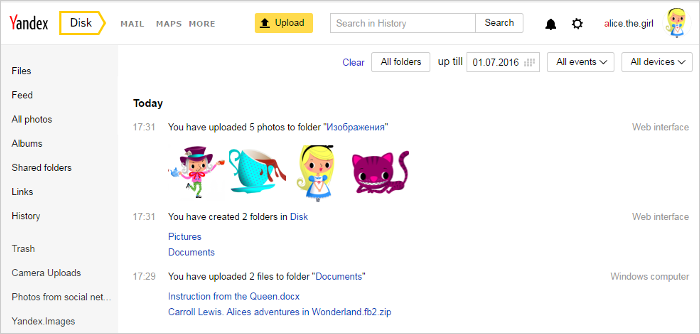 Search for events in your History
To search for events:
By name of the file or folder, contents, properties, or file extension: enter a query in the search box (top-right corner). For more information about search features, see Search Disk.
By date, event type, device, or folder: enter the appropriate value in the filters.

To reset a single filter, click again on the value you selected. To reset all the filters, click Clear to the left of the filters.