Acts on Services Rendered
Once a month, we create certificates on services rendered in *.xls format. We send them to the email address for the certificates (you can check this email in Company section) and save them to your Yandex.Disk in Monthly Acts on Servicing folder. The certificates for a specific store are stored to a sub folder with a number. These numbers are the last digits of the contract with Yandex.Money. For instance, if the contract number is NEK.11322.23, the certificates will be saved to folder 23.
The certificates contain information about payments for one month. If in a month no payments were made, the act will not be created.
The acts for the previous month are created in the following month—within 10 days.
Important. The companies registered outside of Russia does not have this section in their Merchant Profile. We send the certificates on services rendered via email.
How to Download Certificate for Previous Month
Under your Merchant Profile
You can download the last Act created under Acts section by pushing a button near the corresponding month.
To proceed to your Certificates on your Yandex.Disk, push its icon near the word Archive.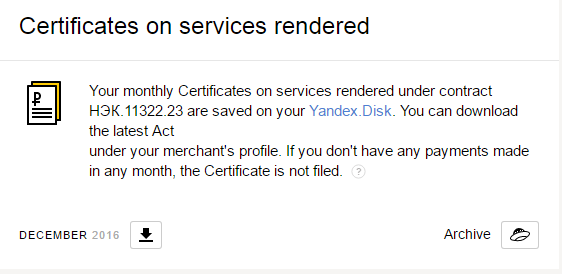 On Yandex.Disk
Yandex.Disk is Yandex's service for storing files. Learn more
To sign in, enter the login and password for your Merchant Profile (user with owner user account). If you signed in with the necessary login name, Yandex.Disk will be viewed without specifying a password.
The certificates are stored in the folder Monthly Acts on Servicing. You can find the certificate you need by file name.
Pattern for creating the file name
PC_Yandex&Money_<day>_<month>_<contract number>.xls
Example
PC_Yandex&Money_15_06_11322_23.xls
Cannot Find the Certificate I Need
Three possible options:
The certificate is not created yet: it will appear on your Yandex.Disk when ready.
You did not have any accepted payments in the previous month: the certificate will not be created.
Not enough space on Yandex.Disk. You need to view your Yandex.Disk and delete files you do not need—new certificate will be uploaded within a day after.
If it did not help, write to us at shoppay@money.yandex.ru
How to get certificate's hard copy
Download the electronic version and print it out in two copies. Sign both copies and send them to our office in Nizhny Novgorod. We will sign these documents from our side and return you back one of the copies via Russian Post.
Address: 6 Svobody proshchad, Yandex.Money, NBCO LCC, Svoboda business center, 603006 Nizhny Novgorod, Russia