Yandex.Checkout for Odin Automation
To start accepting payments via Yandex.Checkout, go to the System section in the side menu and open Settings.
Click the Yandex.Checkout link.

This will open the module page: specify the data from your Yandex.Checkout account and set up data transfer for receipts under Federal Law No. 54-FZ.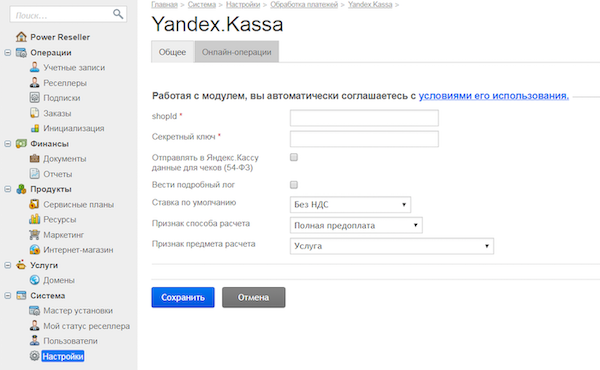 Clarification for fields
shopId is the store number, which you can find in the header of your Yandex.Checkout Merchant Profile or in the "Store settings"section.
Secret key is issued once, during the onboarding process. If you did not save the key, you can re-issue it in the "Store settings"section of your Yandex.Checkout Merchant Profile.
If you're working with an online sales register via Yandex.Checkout, check the Send receipt data to Yandex.Checkout box and configure the parameters below. If you send the data independently, do not do anything.
Sending Details for the Receipts via Yandex.Checkout
The default rate: one VAT rate for all products to be sent with other receipt data.
Payment method attribute contains information about the payment method. Most likely, you will need to select "Full prepayment".
Payment subject attribute contains information about the category of the product you're selling. In most cases, you need to select "Service".
To transfer other data, change the selection and save again.
Keep a detailed log is the option that, in case of an error, will help Yandex.Checkout understand the reasons. If everything is working properly, you don't need to turn it on. If something breaks, the administrator will ask you to check the box.
When you fill out all the necessary data, click Save.
After that, click Check the connection to verify that shopId and Secret key are correct and check the connection with the Yandex.Checkout servers.
The Change button redirects to editing.
If everything is correct and payment acceptance is available, you will recieve the notification, Onboarding completed.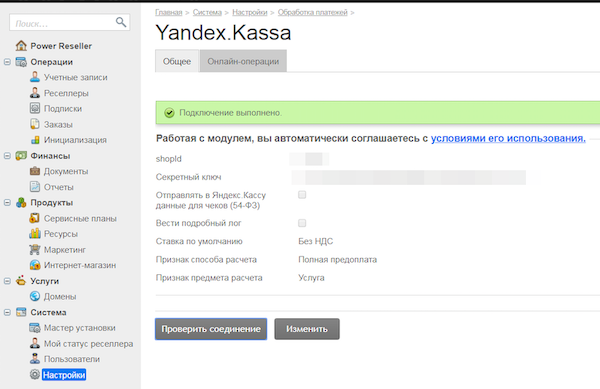 How to view Payment history
Go to Finance — Documents — Payment orders