Configure shared access to a folder
Note.
You can create 50 public folders and accept an invitation to 50 folders of other users.
Access to a folder
Choose the folder and click

To share a folder with the Yandex.Disk desktop program, right-click the folder and choose

Yandex.Disk: Configure shared access

.

Restriction.

You can't share a folder if it:

Doesn't belong to you.

Contains a shared folder.

Is located in a shared folder.

on the top panel or in the context menu.

Choose the colleagues or teams from the list or enter the address manually.

To access the folder, you need a Yandex account. If the invited person doesn't have an account, they receive an invitation to register.

Choose the access rights and click the

Invite

button.

Note.

If you see an error message when sending an invitation, make sure that there are no errors or typos in the address.
Do other people's folders take up space on my Yandex.Disk?
No, a shared folder takes up space only on its owner's Disk. Once you accept the invitation, the service copies the folder to your Disk, but space occupied by the folder isn't counted. This means you can accept an invitation to access a folder of any size, regardless of the space available on your Disk.
If you run out of space on your Disk, you won't be able to upload files to a shared folder, even if you are not the owner of this folder. If you want to be able to upload files to a shared folder, make sure you have some free space on your Disk.
How to quickly access a shared folder?
You can see the list of folders that you have granted or gained access to on the Shared folders page. Each shared folder is marked with the

icon.
Managing shared folders
Each authorized user can rename and move shared folders on their personal Yandex.Disk. This does not have any effect on granting or getting access rights.

Authorized users can revoke their own access to a shared folder by deleting the copy from their own Disk.

A user with

Read-only

access can view and download files from a shared folder.

Note.

If you can't modify or delete a file from a shared folder, ask the owner for the full access to the folder.
Comments to shared folders
Users with access to a shared folder can leave comments to its files and folders, reply to comments and add Likes or Dislikes. All authorized users can comment, regardless of their access rights.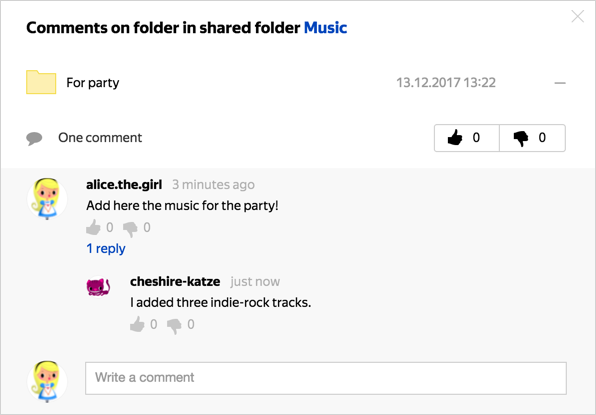 To leave a comment:
Select the shared folder or a file in the shared folder.

In the upper panel, click the

icon and choose the

Write a comment

line.
You can't edit a published comment, but you can delete it and write a new one.
The owner of a shared folder can delete comments from all authorized users and disable comments to a file or folder. You can't simultaneously turn off comments for all files in a public folder.
When a user leaves a comment:
You will see a pop-up notification in the upper right corner of the screen.

The information about the comment is displayed in the notification list.

If you have Yandex.Disk installed, you will see a message in the lower right corner of the screen.
To view all notifications, click the

icon to the left of the account portrait.
To view the history of comments as well as Likes and Dislikes, click the All events button on the History page and choose the line.
Yandex.Disk is out of storage space
If you run out of space on Yandex.Disk, you can't upload new files, share files, or create shared folders. Additionally, you can't use public links to download files you shared earlier, but you can save them to Yandex.Disk. Other actions with files are not blocked. You can still view files, download them to your computer, edit, move, or delete.
Get more storage space to take full advantage of Yandex.Disk.