Playing videos in Yandex Browser
Which video formats can be played in Yandex Browser?
Yandex Browser can open video files with the following extensions: mp4, swf, avi, webm, mpg, ogv, x-m4v, wmv, m4v.
Video files with the MOV, QUICKTIME, and FLV extensions aren't supported.
View videos in a separate window
Note.
The video appears in a separate window if you launched the video yourself or it plays with sound. Video pop-ups are unavailable in
Incognito mode
.
You can view videos in a separate Yandex Browser window. For example, you can simultaneously launch an app and accompanying video instructions. The video player window is displayed on top of other windows so you can watch it regardless of the application you're using. You can drag the window anywhere on the screen or resize the window. The video will continue even if you minimize Yandex Browser. If a video in HTML5 format contains subtitles (for example, videos on Youtube have the 

icon on the control panel), they will also appear in a new window.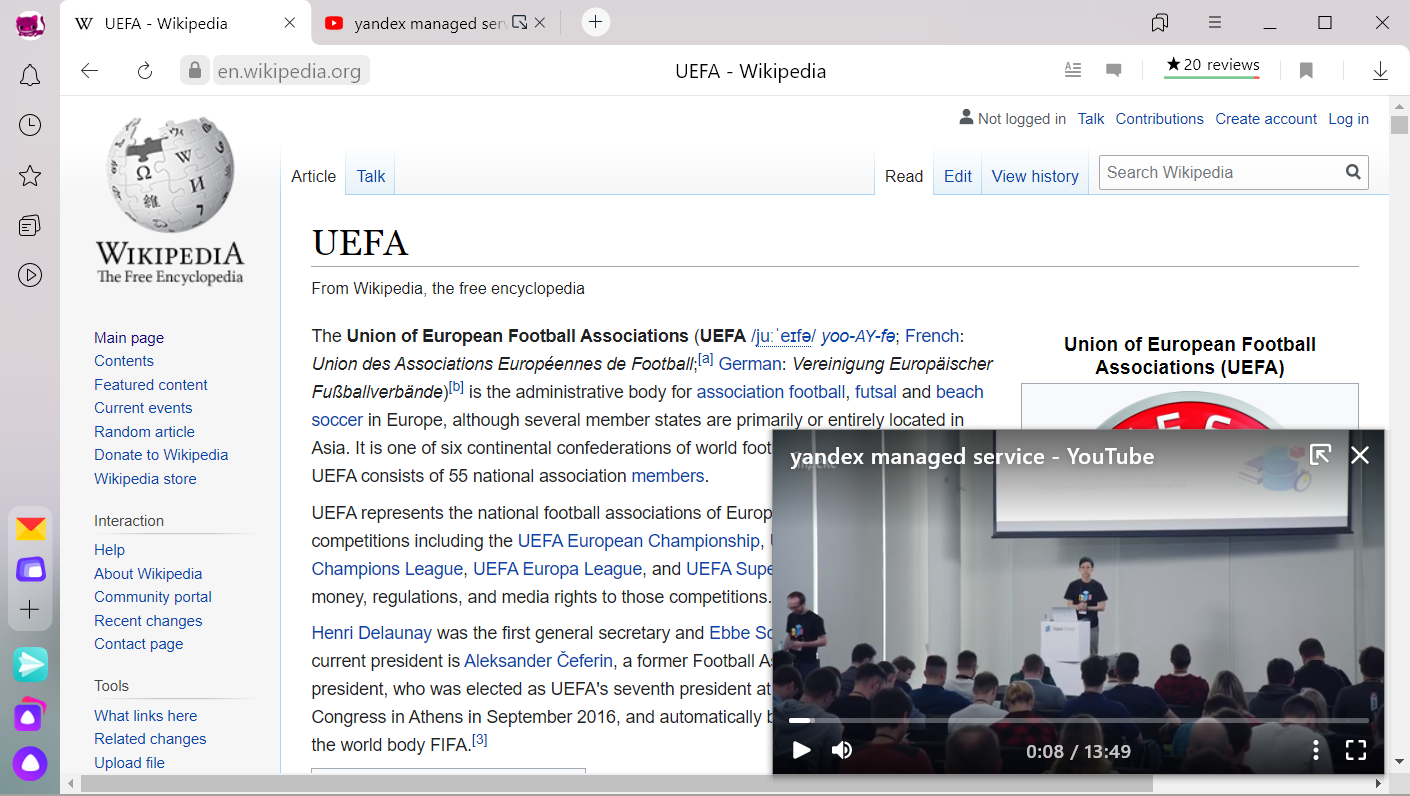 Video in a separate window

By default, the video opens in a separate window when you switch to another tab or program. If this didn't happen, hover your cursor over the top of the video player and click .

Tip.

You can drag the 

icon over the video player anywhere you like.

Manage videos

Use keyboard shortcuts for quick control.

| | |
| --- | --- |
| Pause / play | Space |
| Skip 5 seconds forward | → |
| Rewind 5 seconds back | ← |

| | |
| --- | --- |
| Pause / play | Space |
| Skip 5 seconds forward | → |
| Rewind 5 seconds back | ← |

You can also slow down or speed up the video. To do this, click   → Speed and select the speed from the list.

Manage videos in a separate window

You can hide the video pop-up button or disable automatic video pop-up:

Click 

.

In the

View videos on top of other tabs and programs

section, disable the

Show the pop out button on videos

or

Automatically open video in a separate window

.

If you don't want videos to pop up in a separate window, disable both options.
End of Flash support
The Flash technology was used in browsers to play multimedia files and run games. Adobe stopped supporting and distributing it in 2021.
Most sites already use other content playback formats, such as HTML5 or WebGL. These open source technologies are faster and more stable, significantly safer than Flash, and use less power.
If you visit a site that uses Flash, contact its support.
Video problems
Videos don't play; they download to my computer

If a site owner doesn't allow you to open a file in your browser, the file downloads to the user's computer. To open it in Yandex Browser, drag the downloaded file icon that appears to the right of the SmartBox to the browser, or use the Ctrl + O keyboard shortcut and select the file from your Downloads folder.

Video playback problems

If Yandex Browser displays a black screen instead of a video, the image shakes in online games, or the video takes a long time to load, freezes all the time, or stops when you switch to full screen mode, try one of the following methods.

Check Yandex Browser extensions

Open 

and turn off all the extensions.

If this solves your problem, go through your extensions and turn them back on until you find the one that caused the problem.

Disable the problematic extension. You may want to let the developers know about the problem.

Clear your

cache

so that Yandex Browser doesn't load an incorrect copy of the page that was saved earlier.

Change your hardware acceleration settings

Try turning the hardware accelerator on or off:

Click 

.

If the

Use hardware acceleration if possible

option is selected in the

Performance

section, deselect it. If the option is deselected, select it.

Close Yandex Browser by pressing

Ctrl

 + 

Shift

 + 

Q

.

Restart the browser to apply these changes.

Check to see if this solved the problem.

Update your video card drivers

Click

.

Open

Video Adapters

: a list of video cards will appear.

Right-click the name of your video card.

In the context menu, select

Update drivers

.

Check to see if this solved the problem.

If the problem persists, write to us. In the email, indicate that the drivers were updated.

Protected content is not played

Note.

Protected content is not played in Incognito mode.

If a video that has content protected by copyright doesn't play:

Update and restart Yandex Browser

An outdated version of Yandex Browser may not support the technology required for fast video loading. Install the latest update of Yandex Browser .

When you launch Yandex Browser for the first time, some of the plugins required for the content encryption system to work properly may not connect. To fix this error, restart Yandex Browser and the plugins will connect automatically.

Allow protected content to play

Click 

.

At the bottom of the page, click

Advanced site settings

.

Under

Protected content

, enable the

Allow protected content to play

option.

Some services use unique device identifiers to protect content. To activate them, go to

Protected content identifiers

and enable the 

Allow sites to use identifiers to play protected content

option (Windows only).

NPAPI and Unity not supported

Yandex Browser no longer supports the NPAPI plugin that powers the Unity Web Player. This technology is outdated. Unity has also stopped supporting that plugin.

On Linux, video doesn't work in Yandex Browser

If an HTML5 video or a video that has protected content doesn't play:

If the version is lower than 20.4.3,

update

your browser.

If you have the current Yandex Browser version, run the

sudo /path to the browser folder/browser/update-ffmpeg

command in the console. By default, the browser is installed to

opt/yandex/browser

.

I can't disable video autoplay when going to a site

When you go to certain sites, videos start playing automatically. Unfortunately, there is no way to prohibit video autoplay on sites in Yandex Browser.

Browser doesn't see the webcam

Check if other programs recognize the camera.

If not, make sure that your camera driver is installed correctly, and reinstall it if necessary:

Click

.

Open

Video Adapters

: a list of video cards will appear.

Right-click the name of your video card.

In the context menu, select

Update drivers

.

If they can, specify it manually in the Yandex Browser settings:

Click 

.

Open

Advanced site settings

.

In the

Access to your camera

section, select your camera and enable the

Ask permission

option.

If this doesn't help, contact Yandex Browser support.

"Required video codecs not found" error in Windows

If a video does not play on the site (for example, kinopoisk.ru) and the "No video codecs detected" message appears, this means that you have a Windows N/KN version that does not have the necessary video codecs.

Check your Windows version:

Click

.

Find the Windows version in the About section. For example,

"Windows 10 Pro N"

.

Select the Windows version:

Sound is quiet or there's no sound at all

To find solutions to problems with sound in videos, see Sound problems.