Protect: save passwords
When you enter your password for the first time on a website, Yandex.Browser offers to save it for you. When you visit this website in the future, your saved password will be entered for you automatically.
Automatically save passwords
Attention.
To protect your data, use
complex
passwords on every website.
By default, the browser remembers passwords you enter. If you don't want to save a password to a given site, disable the Save in browser option under the text-entry field.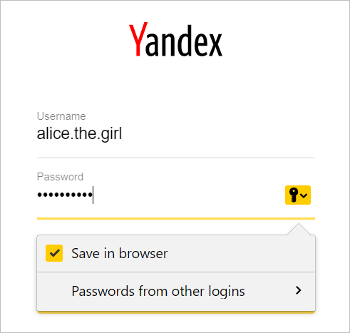 If you enter a password with no username into a form, the browser will suggest that you select one of the options that were saved earlier.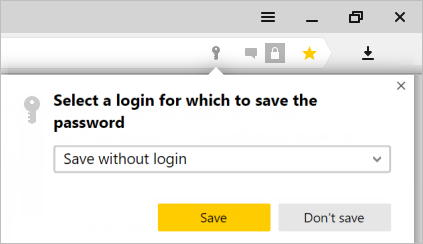 Password generator
We recommend using automatically generated passwords because they are harder to hack. These types of passwords are difficult to hack and it's useless in any case. The password manager will insert them automatically into forms, and you can view them at any time. To protect your passwords in a vault, use a master password.
To generate a password for a site:
Hold your cursor over the password field.
Click .
In the drop-down password list, click the generated password.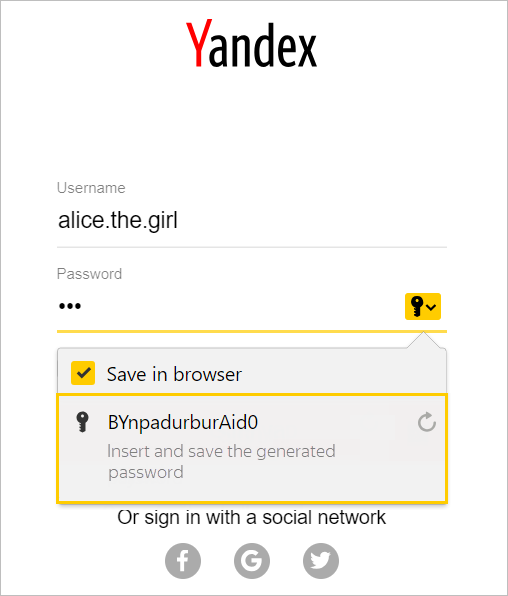 Note.
The password generator appears automatically if your browser recognizes a registration form or change of passwords.
The password that gets created will be stored.
Switching between usernames
To log in to a website under a different name, click the field where you enter your username. The browser will show you a list of usernames that you used on different sites. Select one of them.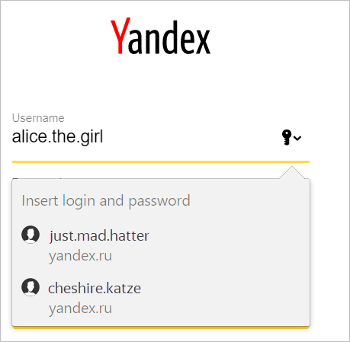 Password saving settings
To control the order passwords are saved in Yandex.Browser:
Click .
If you already created a master password, enter it in the dialog window that opens.
In the tab that opens, go to the

Settings

.
Select the appropriate options:

Allow sites to save passwords in the browser to sign in automatically

. Some sites (those that support CredentialManager API) let you log in without a password. That way you can log in just by clicking and selecting your username. If you want to disallow automatic authorization, disable this option.

Save passwords by default

— if you disable this option, the browser will not save passwords you enter from now on, but will insert passwords you saved earlier in authorization forms.

Auto-fill login forms

— if you disable this option, the browser will not insert usernames or passwords into authorization forms. If this option is disabled, you can allow the browser to insert both your usernames and passwords in forms, or only your usernames.