Protect: secure your bank cards
Why do I need to protect my cards?
Hackers may try to get your payment information (card number, name, expiration data, and CVV2) in order to then use this data to steal money from your account. Your payment information may be at risk in the following situations:
The online payment form is on a fraudulent website.
The site accepts payments by card but it doesn't use a secure HTTPS connection.
The site uses a certificate that Yandex doesn't recognize.
The payment form is located on a different domain than that of the main site.
Security warning
When you enter your bank card number, there are two types of warnings that Yandex.Browser may display:
There is a clear risk that your data could be stolen. In this case, the SmartBox displays the icon and a window opens with a warning.
There is no clear risk of data theft, but there is still a potential security problem. In this case, the SmartBox displays .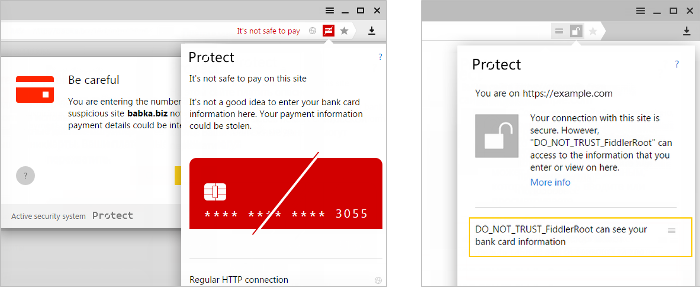 Click on the icon in the Smartbox to get additional information about the problem. You will see one of the following messages:
Message
Description

You are entering card number **** on example.com, which does not use reliable encryption. Your payment details may be intercepted by hackers.

Yandex considers the site to be suspicious or the site uses the non-secure HTTP protocol during payment processing.

Don't proceed with payment, or else your data may end up in the hands of hackers.

"Certificate name" can see your bank card information.

Yandex does not recognize site certificate (certificates confirm a site's authenticity and are part of the data encryption process over HTTPS).

Check the origin of the certificate and decide if you trust it.

The connection with this site is not encrypted, but your bank card data will be sent to

example.com

, which is secure.

The form you use to enter your payment information is located on a different site from the one where the payment is actually made. It's likely that you ended up on a phishing page.

Make sure that you trust the site where the payment form is located.

Your bank card data will be sent to a different site, example.com, which is secure.
Disable card protection
Attention.
We don't recommend that you disable card protection if you plan on making payments in your browser window.
Follow these steps if you do want to disable card protection in your browser:
Click
In the lower half of the

Settings

page, click

Show advanced settings

.
In the

Privacy

section, disable

Display a warning about entering bank card information on unsafe sites

.
Restart the browser to apply the changes.