Yandex.Zen
Note.
Yandex.Zen is available on the desktop version of Yandex.Browser, as well as the mobile browsers for
iPhone
smartphones
and
tablets
running on Android. Read the Zen article in Help to find out how to enable or disable Zen in your device's mobile browser.
What is Zen?
Zen is a personal recommendation service provided by Yandex. It selects news, blog posts, and other online publications that may be of interest to you. The selection is based on your browsing history and stated preferences.
Recommendations are displayed as cards under Tableau when you open a new tab. To see all your recommendations, scroll down the feed.
Tap on an article in your feed to read it — the full text will open in a new tab. Your recommendation feed will remain on the Yandex.Zen tab and you can go back to it to view other publications you're interested in viewing.
To refresh your recommendation feed, go to the Yandex.Zen tab, and click More cards or press F5.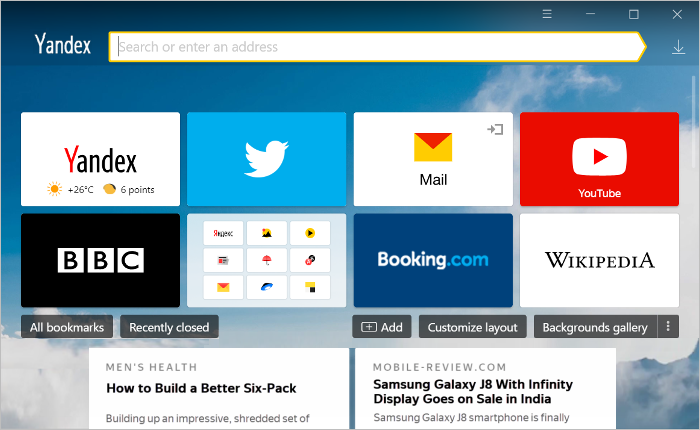 Sign in to Yandex
Sign in to your Yandex account so that Zen can select publications that will interest you. Zen can then start collecting information about the websites you visit and post content you would want to see in your feed.
If you read Zen on different devices or in different applications, log in to your Yandex account wherever you use Zen. This will allow Zen to follow your viewing history, subscriptions, and preferences from all your devices. Your feed quality will significantly improve.
Note.
Use the same Yandex account on all your devices and apps.
To log in to Yandex:
Open Yandex.
Tap

Log in

in the upper-right corner of the page.
Enter your Yandex username and password. If you are not registered on Yandex, click

Register

and fill out the account information.
Repeat these steps for every device that you use.
Note.
If you are logged in but still have to set up your Yandex.Zen feed from scratch every time you launch the browser, then check whether or not
cookies
are
disabled
. Yandex.Zen uses your history of visited sites to construct your recommendation feed. If you are not saving cookies, then Zen is not able to collect your information for analysis.
Customize your recommendations feed
Zen analyzes what you read on the internet and adjusts the content of your recommendations feed to suit your interests. This takes time. If you want to adjust the feed to reflect your interests faster:
If you like a post, tap the icon at the bottom of the recommendation and Zen will recommend more posts like this one.
If do not you like a post, tap the icon at the bottom of the recommendation and Zen will recommend fewer posts like this one.
If you don't like a site at all, click below the recommendation and then

Block

. The site will be added to your blocked list. You can only return a blocked site to your Zen feed from a mobile device.
Note.
If you add a site to the list of ones you're interested in, it doesn't mean that you've subscribed to it. It is just a way to let Zen know that you are interested in that site's publications. That way, Zen will show you publications with similar subject matter both from that site as well as from others. Zen will also filter out publications from that site that do not match your interests.
Disable recommendations
Click
Go to the

Appearance

section.
Deselect the

Show Zen — your personal recommendations feed — in new open tabs

option.