Extensions
Extensions are small programs that can enhance the browser's functionality. For example, they can block annoying ads, enable night mode or manage passwords. In Yandex Browser, you can install extensions created by the browser's developers as well as extensions from the Opera add-ons catalog.
View the list of extensions
Based on a careful analysis of existing extensions and user preferences, we selected the most popular, useful and secure extensions for Yandex Browser.
To open the extensions list, click

→ Add-ons. The page that opens shows the browser extensions you can install. To do this, toggle the button next to the extension name to On. In addition to extensions, the list shows optional browser features (Turbo mode, syncing).
Actions with extensions
In addition to Yandex Browser extensions, you can install Opera adds-ons that are compatible with Yandex Browser.
Click .

At the bottom of the page, click

Yandex Browser extensions catalog

.

Go to the page of the extension you want and click

+Add to Yandex Browser

.

In the window that opens, review the list of data that the extension will have access to. If you are willing to allow the extension to access your data, proceed with the installation.
Click .

Find the extension in the list and toggle the button to

On / Off.
If you want to access extension settings:
Click .

Click

More details

under the description of the extension.

Click

Settings

under the description. If there is no such button, then this extension cannot be configured.
Restriction.
You can only delete extensions that are under
From other sources
.
Click .

Click

More details

under the description of the extension.
Extension icon
When some extensions are on, an icon appears to the right of the SmartBox. When you click the icon, you can access the extension's features: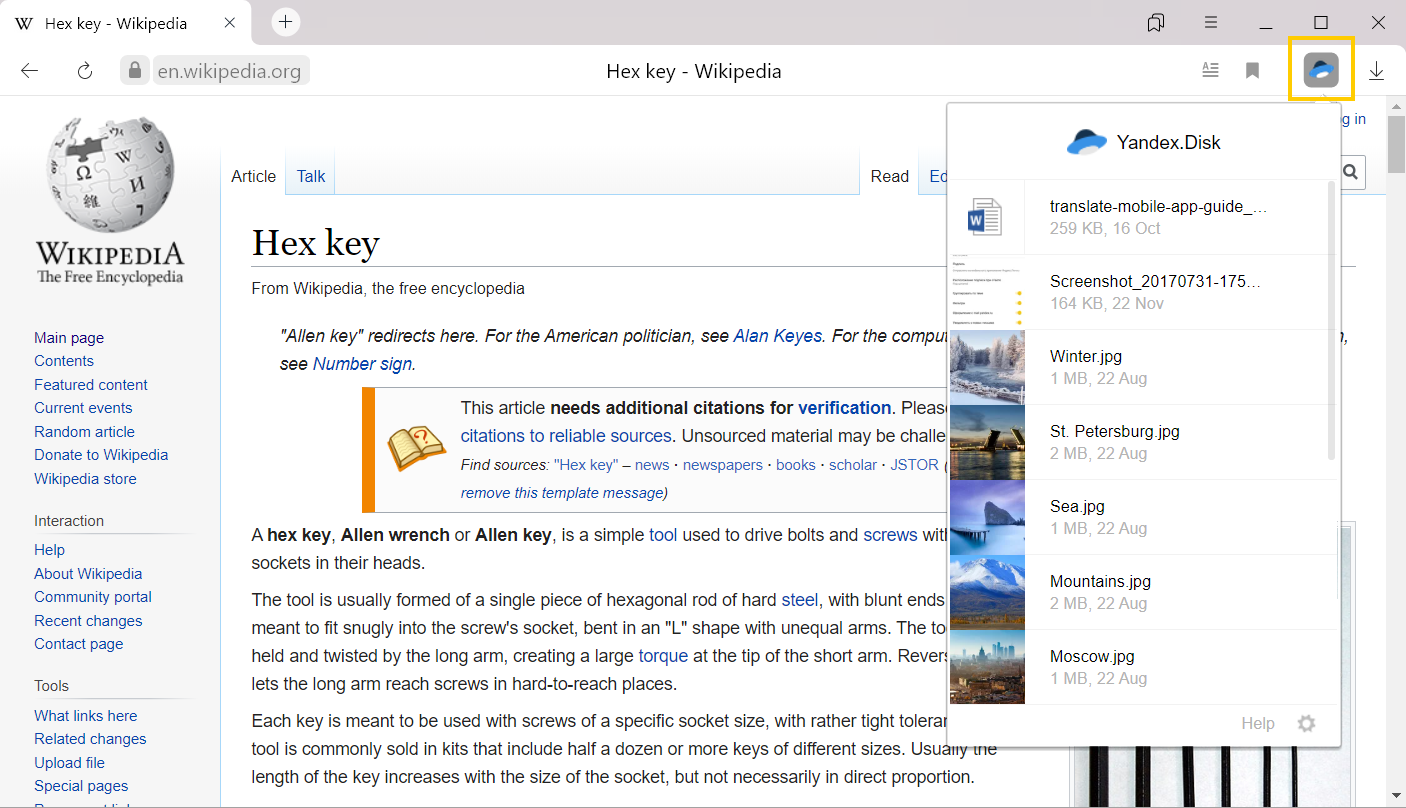 Right-click the extension icon.
If an extension icon doesn't display in the browser panel:
Click .

Click

More details

under the description of the extension.

Set keyboard shortcuts for extensions
You can set keyboard shortcuts to quickly activate an extension or perform various actions with it.
Click .

Click

Keyboard shortcuts for extensions

at the bottom of the screen.

Select the desired extension.

Choose the action that you want to assign a shortcut to and click in the field to the right of it.

Press and hold one or more modifier keys (

Ctrl

,

Shift

,

Alt

) and a key of your choice.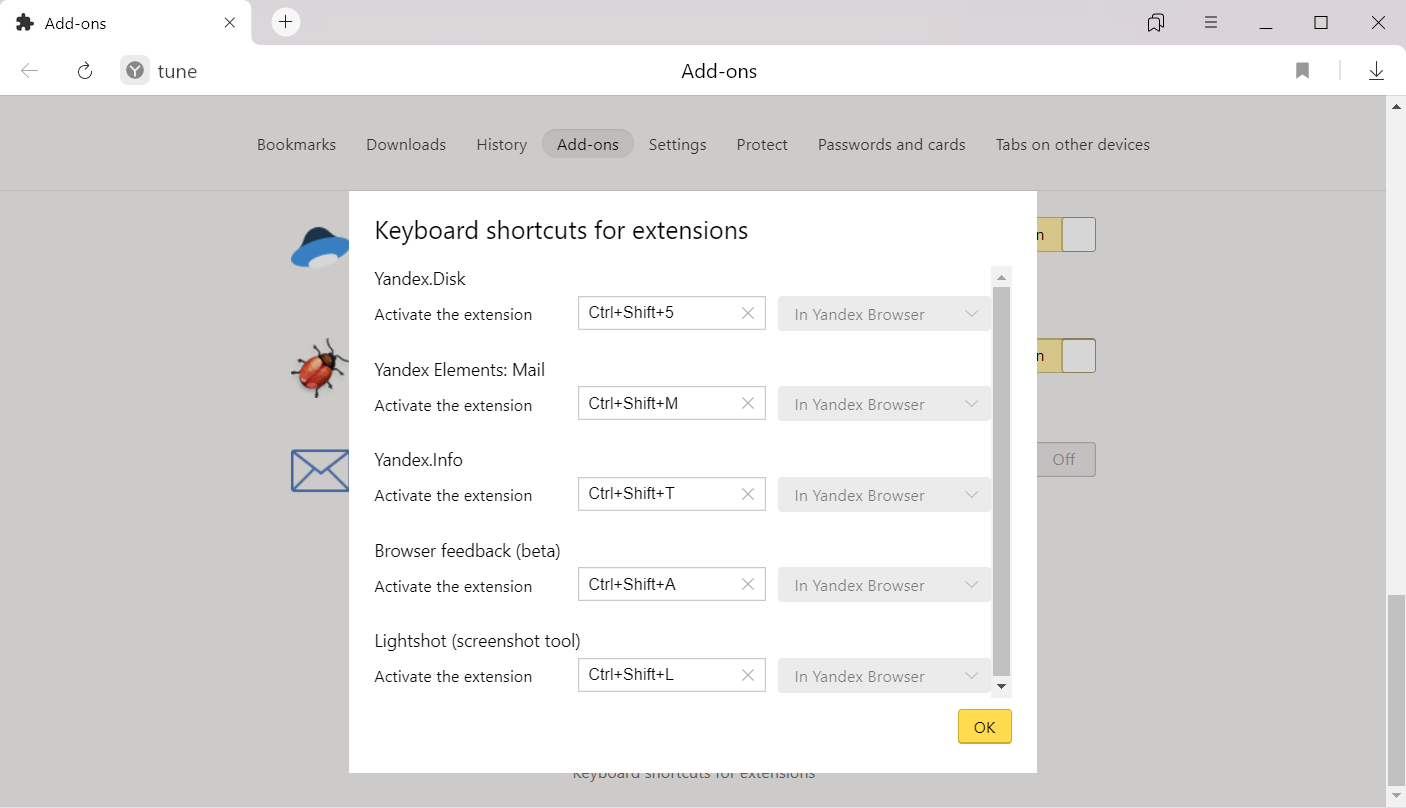 What extensions are not supported by Yandex Browser?
Yandex Browser only supports extensions from the Opera add-ons catalog, which are checked to ensure they are safe. If you try to install an extension from a different source, you will see one of these notifications:
| Incompatibility message | Reason for failure |
| --- | --- |
| "Yandex blocked installation of a potentially dangerous extension" | This extension is malicious and has been black-listed. |
| "Yandex Browser does not support this extension" | The extension is not technically compatible with Yandex Browser. |
| The installer says the extension was successfully installed, but it does not appear on the extensions page. | The extension is not technically compatible with Yandex Browser. |
| Incompatibility message | Reason for failure |
| --- | --- |
| "Yandex blocked installation of a potentially dangerous extension" | This extension is malicious and has been black-listed. |
| "Yandex Browser does not support this extension" | The extension is not technically compatible with Yandex Browser. |
| The installer says the extension was successfully installed, but it does not appear on the extensions page. | The extension is not technically compatible with Yandex Browser. |