Wi-Fi connection protection
Why do I need Wi-Fi protection?
Encryption is not usually used in public Wi-Fi access points (for example, in airports or cafes). Anybody who is using a laptop or a smartphone near you could intercept or replace your personal data or read your emails.
Yandex.Browser uses a proprietary protection tool to protect wireless connections. Wi-Fi protection is available in the desktop version of Yandex.Browser as well as in the mobile version for smartphones and tablets running on Android.
When this protection is enabled, data is sent through a special encrypted channel. The data transfer rate may be slightly slower, because the page is sent to the Yandex encryption server before it is returned to the user.
Enabling protection
As soon as the user connects to an unsecure network, the browser automatically secures the wireless connection.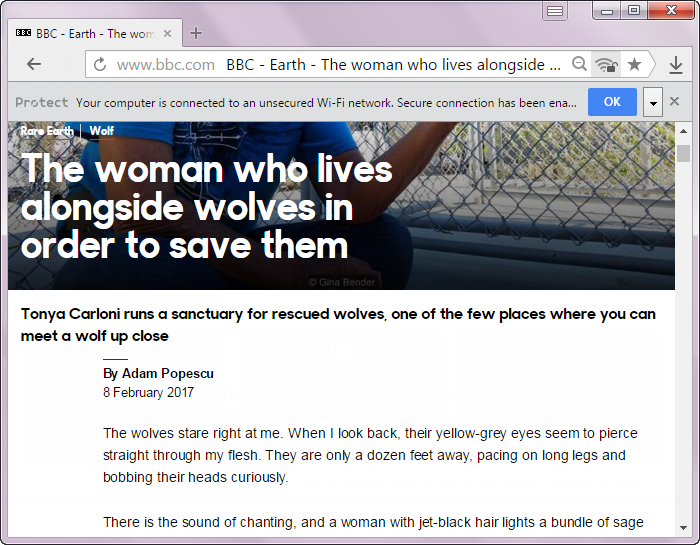 After Wi-Fi protection is enabled, one of the following icons will display in the SmartBox:
| Icon | Description |
| --- | --- |
| | Wi-Fi protection is enabled. |
| | Protection is enabled, but some elements of the page (for example, images or video) cannot pass through a secured channel. |
| | Yandex servers are temporarily unavailable or Yandex can't access the website (for example, a corporate site). If you are not on a secured corporate website, avoid transferring confidential or banking data until Wi-Fi protection is restored. |
Wi-Fi encryption settings for your home network
If you connected to your home Wi-Fi and see a classic Yandex.Browser alert about an unsecured network, it means that the protection algorithm used by your router is not secure enough.
Attention.
The
WPA2/WPA2-PSK
protection algorithm is considered secure. The WPA/WPA-PSK algorithm is less secure. The protection level when using the WEP algorithm is equivalent to no encryption. We strongly recommend using something other than WEP.
Classic Yandex.Browser will automatically enable Wi-Fi protection if a user enters an unsecured network. In this case data transfer speed may be slower, because the data is passing through a secured channel. You can avoid this by configuring router encryption:
Open the web interface for managing the router.
Go to security settings.
Set

WPA2

or

WPA2-PSK

network authentication type.
For more detailed recommendations, please refer to your router's user manual.
Disabling protection
Attention.
Disabling Wi-Fi protection will increase data transfer speed, but it puts your data at risk. We do not recommend that you expose yourself to this risk, especially if you are going to transfer your personal data or make e-payments.
To disable Wi-Fi protection:
Click the Wi-Fi icon in the SmartBox.
Select

Disabled

.
After doing this, your data will stop passing through a secured channel, but you will still see the unsecured Wi-Fi alert in the SmartBox.
To disable Wi-Fi protection completely, including alerts in the SmartBox:
Click

In the lower part of the Settings page, click the Show advanced settings button.

In the

Network

section, deselect the

Warn me when using unsecured Wi-Fi networks

option.