Paid subscription warnings
It's so easy to subscribe for paid mobile phone services that you might do it without intending to: it just takes one tap on a button on the service's webpage to sign you up. Classic Yandex.Browser warns you about paid subscriptions so that you only sign up for services you actually want.
What are paid subscriptions?
It is particularly easy to end up in this position if you get to such a site using a computer rather than a mobile device. This is because it is harder to notice small letters on a bigger screen.
According to Yandex's data, about 20% of users land on pages with a mobile subscription from their computers. One of the reasons for this is the popularity of 3G modems that are often used together with Wi-Fi routers. Additionally, pages containing paid subscriptions may open malicious extensions.
Paid subscription warnings
Yandex.Browser will display a warning if you are redirected to the page of a mobile operator that has a paid subscription. Click Proceed only if you really intend to pay for a subscription.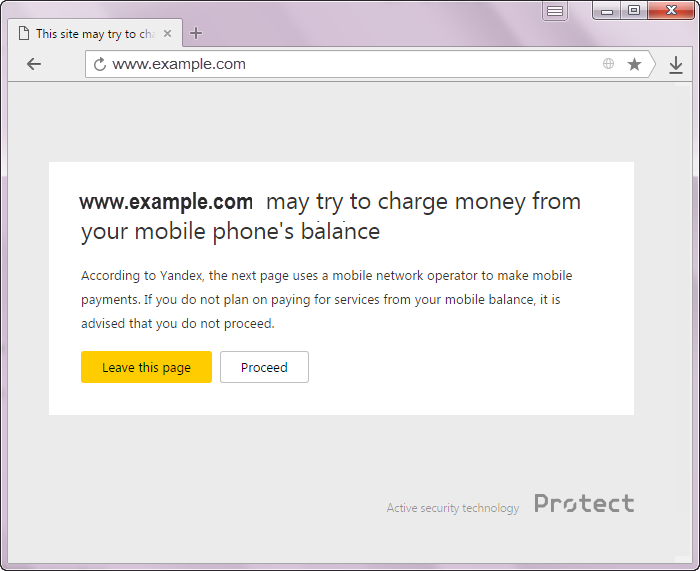 Disabling protection
Attention.
To disable paid subscription warnings, you need to completely disable protection from malicious software and websites on
classic Yandex.Browser
. We do not recommend this.
To disable malware protection:
Click
In the lower half of the

Settings

page, click

Show advanced settings

.
In the

Privacy

section, disable the

Enable protection from malicious websites and software

option.

Restart the browser to apply the changes.