Turbo mode
What is Turbo mode?
Turbo mode is activated when the internet connection with the browser is slow. It speeds up page loading and saves your traffic. Pages contents, including videos, are compressed on Yandex servers before being sent to the browser.
When Turbo mode is activated, the Turbo icon

appears in the right part of the SmartBox.
Restriction.
Turbo mode does not apply to pages that use
HTTPS
. These pages do not pass through the Yandex servers; they display directly in your browser.
Automatically enabling and disabling Turbo mode
Two thresholds determine when Turbo mode switches on and off:
Turbo mode is enabled when connection speed falls below

128 Kbit/s

, and remains on until the speed exceeds 512 Kbit/s.

When the connection speed exceeds 512 Kbit/s, Turbo automatically switches off (and the icon in the SmartBox disappears). Turbo mode remains off until the speed falls below 128 Kbit/s.

Restriction.

You can't adjust the speed thresholds for switching Turbo mode on and off.
Unloaded page elements
Compressing video
By default, classic Yandex.Browser compresses video when Turbo mode is on in order to reduce traffic by up to 70%, but this lowers image quality. To view videos without sacrificing quality, disable video compression:
Click
In the

Turbo

section, turn off the

Compress video

option.
How to turn on or turn off Turbo mode
Click
.
After doing this, Turbo will stop switching on automatically.
Mode settings
You can manually turn Turbo mode on or off in your settings (which will also prevent it from launching automatically). Additionally, you can disable video compression and turn off speed notifications. All settings are saved even after you restart your browser.
Click
In the

Turbo

section, set options for Turbo mode.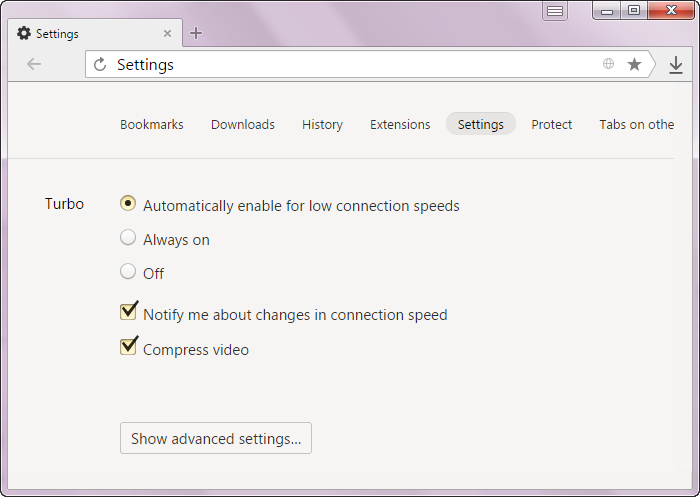 Option
Description
Automatically enable for low connection speeds
The

classic Yandex.Browser

works this way by default. Turbo mode automatically turns on when connection speed is low and turns off when it's fast.
Always on
Turbo mode is always on, and the icon is displayed in the right part of the page header. For a fast internet connection, Turbo mode might slow down page loading.
Off
Turbo mode is disabled. When the internet connection is slow, the icon is displayed in the right part of the page header (enabling Turbo mode is recommended).
Notify me about changes in connection speed
You will get messages from

classic Yandex.Browser

about changes in the connection speed and Turbo mode.
Compress video
Video compression is enabled by default in Turbo mode. You can disable video compression to improve its quality.