Tableau
What is the Tableau?
Every time you open a new tab or place the cursor in the SmartBox, you will see the Tableau — a panel with widgets of your most frequently visited websites. By default, the Tableau has widgets for some Yandex services.
To quickly go to a desired site, click the widget.
Note.
If the widget does not lead to the website's home page, the widget will show the page name as well as the logo.
The set of websites shown on the Tableau can be selected manually.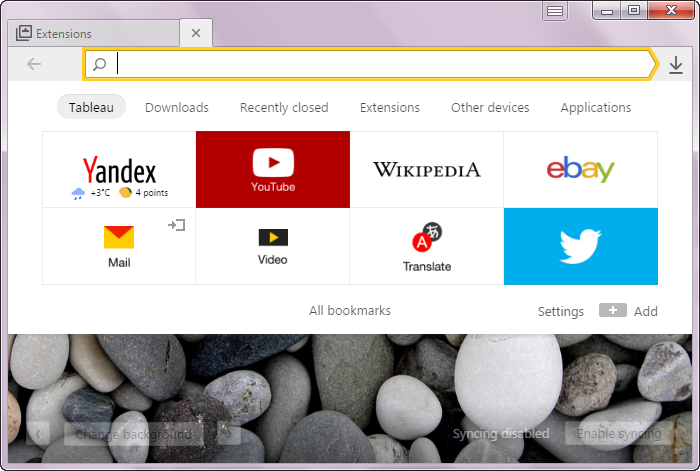 Adding websites to the Tableau
Open the Tableau.
Click the

Add

button under the Tableau.
Enter the site that you want to add to the Tableau. You can select a site from the lists of

Popular

or

Recently visited

sites, or enter the address manually.
Restriction.
Up to 20 widgets can be added to Tableau.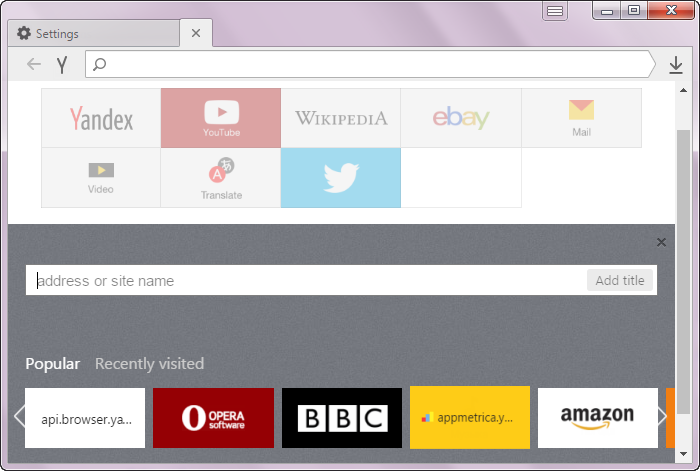 Edit widgets
Switch to edit mode to manage Tableau contents. To switch to editing for:
A single widget

— Click and hold it on the Tableau, or hover over the widget and click the appropriate icon.

for all widgets

— click the

Settings

link under Tableau.
Attention.
Make sure you save changes when you exit edit mode. To do this, click
Finish
at the bottom of the screen.
In edit mode, you can: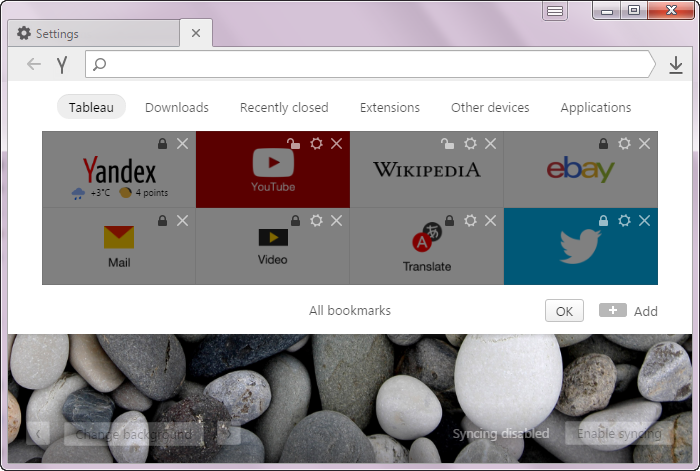 Move widgets on the Tableau
Pin a widget
Click the on the widget.
Unpin a widget
Click the icon.
Delete a widget
Click the icon.
Change a widget's position
Drag the widget to the new location.
Edit a widget
Change the page the widget leads to
Click the icon and type the website URL under the Tableau.
Add the webpage name to the widget
Click the icon, then click the

Add Label

button beneath the Tableau and enter the page name.
Edit the page name on the widget
Click and edit the page name in the bar that appears.