Extensions
What is an extension?
Extensions (or add-ons) are programs embedded in classic Yandex.Browser that allow you to expand your browser's functionality (in order to, for example, get rid of annoying ads). There are many extensions available, and some of them could be considered malware. Yandex has analyzed the available extensions and studied user preferences in order to select the safest, most popular, and most useful extensions for classic Yandex.Browser.
To go to the extensions page, click

→ Extensions.
To install a browser extension that is listed on the page that opens, flip the switch to On next to the name of the extension.
Actions with extensions
Click .
Find the extension in the list and set the switch to

On / Off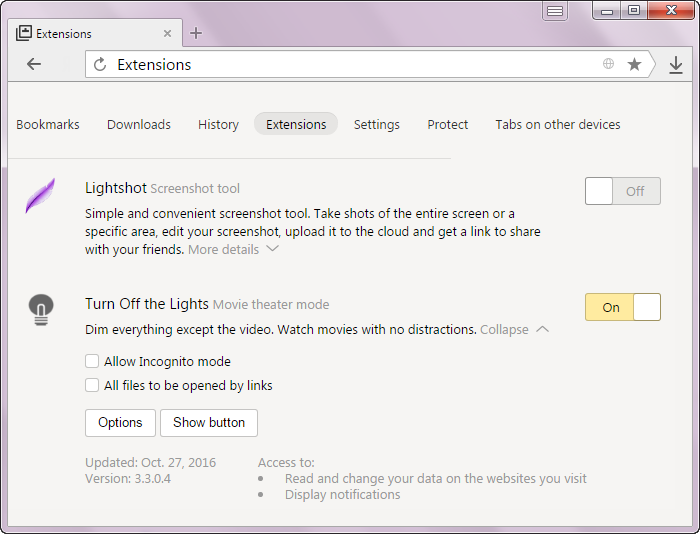 In addition to extensions selected by Yandex.Browser, you can also install extensions from the Opera catalog. All extensions from this catalog are compatible with Yandex.Browser.
Click .
Click

Yandex Browser extensions catalog

at the bottom of the page.
Go to the page for the extension you want and click

+ Add to Yandex Browser

.
In the window that opens, review the access rights for the extension, and confirm the installation.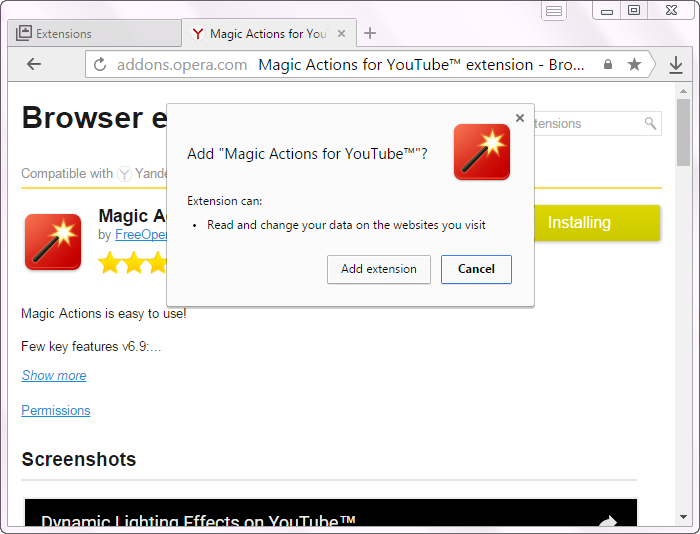 Restriction.
You can only delete extensions that are located in the
From other sources
section.
Click .
Click the

More details

link in the description of the extension you want.
Click

Delete

.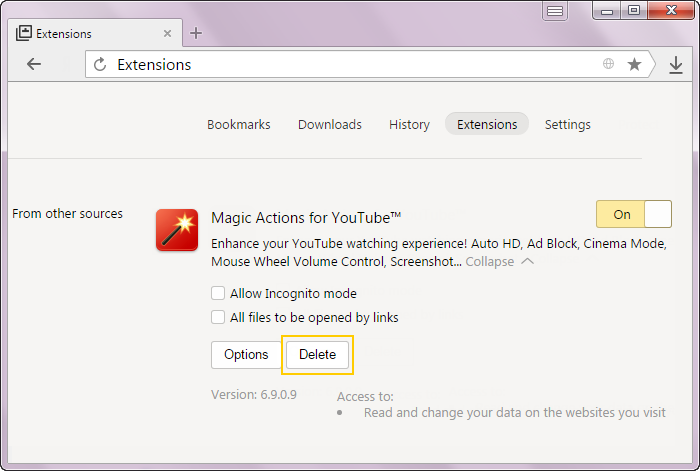 Extensions icon
For some extensions, an icon appears to the right of the SmartBox after turning the extension on. By clicking the icon, you can access the extension's features:

Right-click the extension icon.
Select

Hide button

.
To reactivate an extension icon that you deactivated:
Click .
Click the

More details

link in the description of the extension you want.
Click

Show button

.

Using extension shortcuts
You can set keyboard shortcuts to quickly activate an extension or perform various actions with it.
Click .
Click

Keyboard shortcuts for extensions

at the bottom of the screen.

Select the desired extension.

Choose the action that you want to assign a shortcut to and place your cursor in the field to the right of it.
Click and hold one or more modifier keys (

Ctrl

,

Shift

,

Alt

) and a key of your choice.
Click

OK

.