Viewing and editing MS Office, OpenOffice files
Which files can be edited?
Yandex Browser supports viewing and editing files with the following extensions:
DOC, DOT, DOCX, DOTX

XLS, XLT, XLA, XLSX, XLTX, XLSM, XLTM, XLSB

PPT, POT, PPS, PPA, PPTX, POTX, PPSX

ODT, ODS, ODP
Open files in Yandex Browser
Auto

The first time you download a file in an office format, the View and edit documents page opens and you can select an option:

Do not open documents in Browser

.

Disable automatic file opening

Click 

.

In the

File viewer

section, disable the 

Open files in Office format in the browser

option.

Manually

Use one of these options:

Open the folder with the file and drag the file to your Yandex Browser window.

In Yandex Browser, press

Ctrl

 + 

O

and select the file you need.
Edit files
You can use Yandex Documents to edit documents, tables, and presentations that are open in Yandex Browser. To do this, click Edit copy at the top of the document. A copy of the document will be saved to Yandex Disk in the Downloads folder. You can also edit documents online with your friends or colleagues.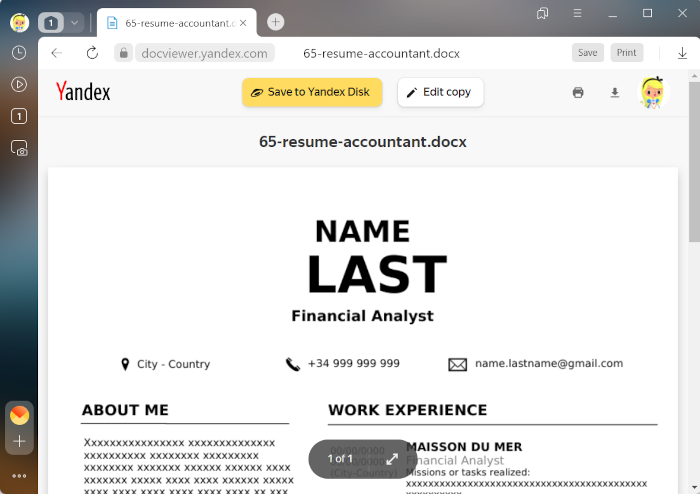 Keyboard shortcuts for changing zoom
To zoom out:

Ctrl

 + 

Minus

.

To set page zoom to 100%:

Ctrl

 + 

0

.
Use keyboard shortcuts for more actions.
If documents download instead of opening
Click 

.

Under

File viewer

, select 

Open files in Office format in the browser

.
Check also if the quick view option is enabled:
On the right side of the SmartBox, click

.

Right-click the name of the file.

In the menu that opens, enable the

Open <format name> files automatically on completion

option.