Bookmarks
Bookmarks are saved links to webpages you will need again.
Creating bookmarks
Open the page you want to add to bookmarks.
On the right side of the SmartBox, click .
Click

→ Bookmarks → Create bookmark.
Bookmarks bar
Bookmarks and bookmark folders are displayed on the Bookmarks bar below the SmartBox.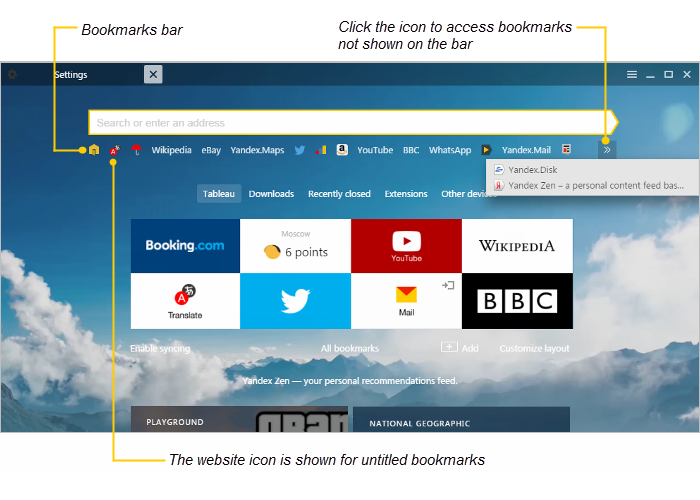 There are several ways to enable and disable the bookmark panel:
Click

→ Bookmarks → Show bookmarks bar.
Click
In the

Show bookmarks bar

section, flip the switch to either

Always

or

Only on Tableau

(if you only want to see the bookmarks bar when you open a new bookmark).
Actions with bookmarks
Click
.
Select the bookmarks folder from the menu on the left.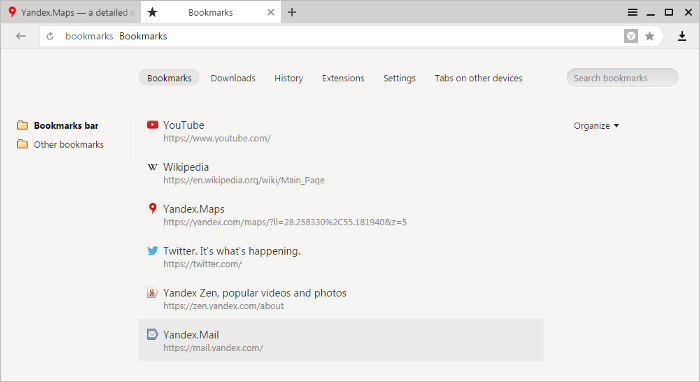 After syncing the browser on different devices, folders with the device name will appear in the menu on the left (e.g., Smartphone or Tablet PC). For more information, see the section Bookmarks on different devices.
Click
.

Right-click the bookmark and select Edit.

Edit the bookmark name.
Tip.
If you want a favicon to be displayed instead of the website name on the bookmarks panel, delete the bookmark name field.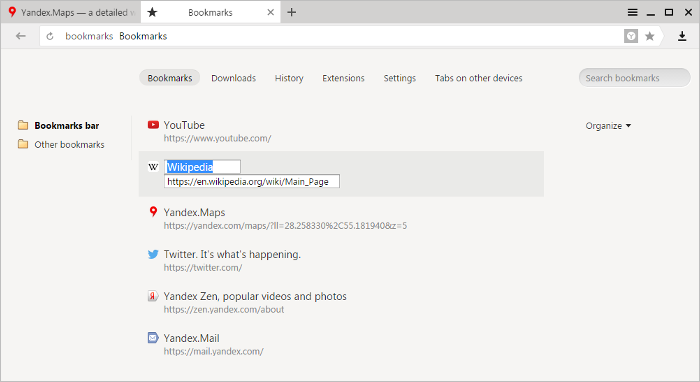 Click
.

Right-click the bookmark and click Delete.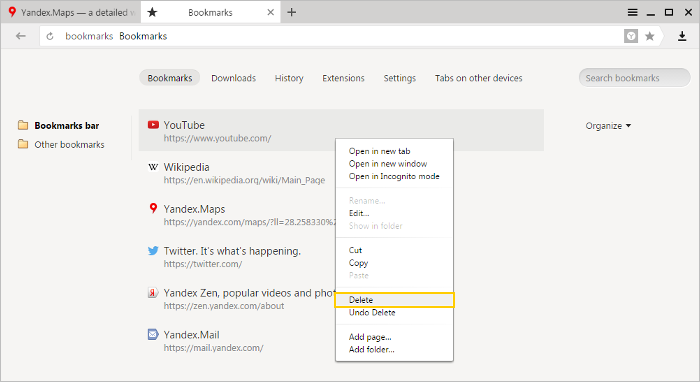 Importing bookmarks from another browser
To transfer bookmarks from another browser:
Click
.
In the

Import bookmarks and settings

window, choose the browser to transfer bookmarks from.
Select the

Favorites and bookmarks

option (if you only want to transfer these settings, turn off all the other options).
Click the

Import

button. A window opens with a notification about successfully importing bookmarks.
If necessary, select the option

Always show the bookmarks bar

.
Click

Done

.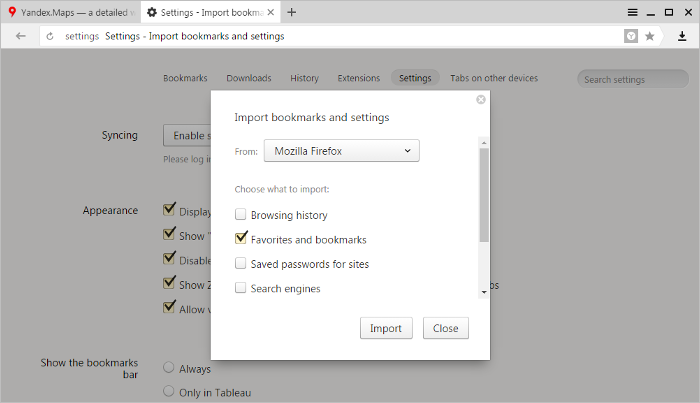 If your computer is used by several users, we recommend that you create a separate personal profile for each user in your browser. This will prevent mixing up your bookmarks. For more information, see the section Personal user profile.
Bookmarks on various devices
After enabling syncing, your browser will display bookmarks from all other synced devices (computer, tablet, smartphone). Bookmarks from devices of the same type are combined into one list. For example, if syncing is enabled on two computers and your smartphone, then you will see a Computer section in your smartphone bookmarks, which contain bookmarks from both computers.
If you add or delete bookmarks on one device, then these changes will be reflected on your other devices, provided that they're connected to the internet and logged in under your account.
If you create bookmarks for the same page on different devices, then the bookmark that synchronizes with the server first will be saved.