Questions about the security and protection of personal information
How is Yandex.Browser protected?
Yandex.Browser uses its own integrated security system called Protect, which scans downloaded files for viruses; blocks infected and fraudulent websites and shocking advertising; and secures Wi-Fi connections, user passwords, credit card data, and browser settings.
What type of virus protection does Yandex.Browser offer?
How can I turn on the family content filter?
You can't filter search content directly in the browser. However, you can enable Family search in Yandex Search.
How do I disable JavaScript support?
Note.
By default, JavaScript support is enabled.
To prevent websites from using JavaScript:
Open the webpage.
Click or in the right half of the SmartBox.
Click

More info

.
In the

Permissions

section, find the

Javascript

field and select

Always block on this site

from the list.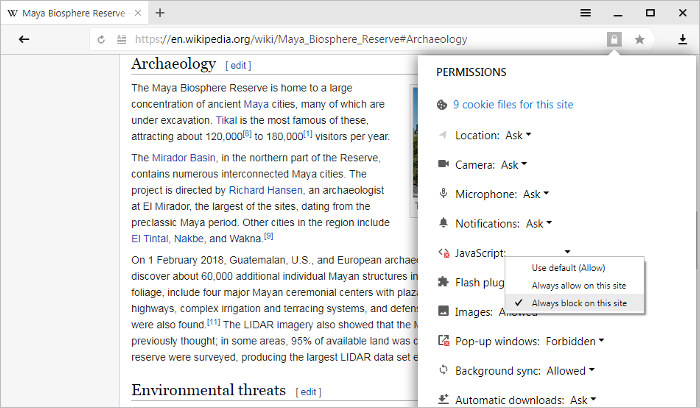 Click
At the bottom of the

Settings

page, click

Show advanced settings

.
In the

Privacy

section, click

Content settings

.
In the

JavaScript

section, check the

Do not allow any site to run JavaScript

option.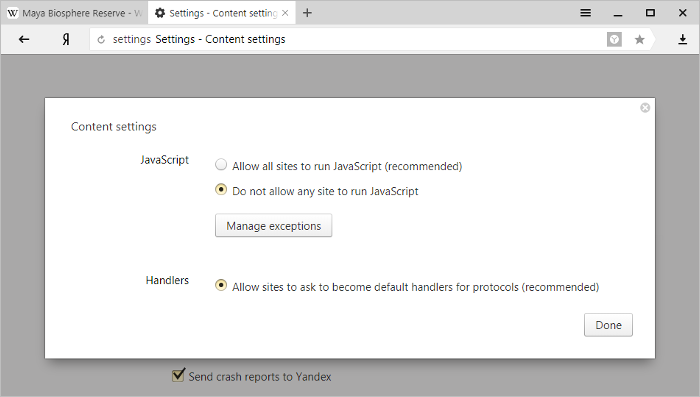 I get the "Your clock is ahead" error message What should I do?
Site certificates that guarantee that your connection is safe have a limited validity period. If a certificate expires, then it is not safe to send your information to the site and the browser will block such sites. If your time settings are not accurate on your computer, the browser can't determine if the site's certificate is current or not. In this case you will see this message: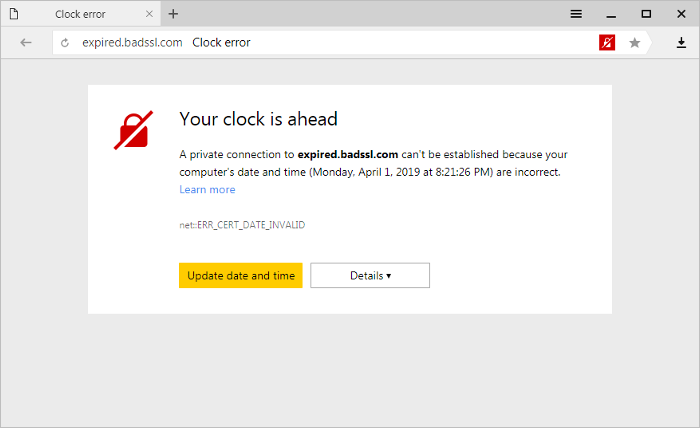 To continue on to that site, click Update date and time. In the system settings that open, set the correct date and time and then refresh your browser page.
How do I delete browser data?
Tip.
To keep your personal information secret, use
Incognito mode
to open suspicious sites. It's not effective to delete your browser data after you visit a site, since a hacker might steal it during your visit. Furthermore, if you delete browser data, you risk losing information that you need (such as your passwords).
To delete your browser data:
Use the keyboard shortcut

Ctrl

+

Shift

+

Del

(in Windows) or

Shift

+

⌘

+

Backspace

(in Mac OS).
In the

Clear browsing data

list, select the time range you want to delete cookies for.
Select the data types you want to delete.
Click

Clear browsing data

.
You browser data will be deleted. If syncing is enabled, data deleted from your computer will be deleted from all your devices during the next sync.
You can delete the following data in the Clear browsing data window:
| Data type | Comments |
| --- | --- |
| Browsing history | Addresses of web pages you have visited and all IP addresses associated with these pages. |
| Download history | List of downloaded files in the browser. The actual files remain on the computer. |
| Files saved in the cache | Web page elements that the browser has saved in the cache in order to load them faster on the next visit. |
| Cookies and other website data and plugins | |
| Saved passwords | Passwords that you saved in Yandex.Browser for automatic authentication on websites. |
| Autofill form data | Autofill data that you entered in web forms. |
| Media licenses | Licenses to reproduce purchased content such as films and music. Please cancel these licenses before you sell or donate your computer. |
| Data type | Comments |
| --- | --- |
| Browsing history | Addresses of web pages you have visited and all IP addresses associated with these pages. |
| Download history | List of downloaded files in the browser. The actual files remain on the computer. |
| Files saved in the cache | Web page elements that the browser has saved in the cache in order to load them faster on the next visit. |
| Cookies and other website data and plugins | |
| Saved passwords | Passwords that you saved in Yandex.Browser for automatic authentication on websites. |
| Autofill form data | Autofill data that you entered in web forms. |
| Media licenses | Licenses to reproduce purchased content such as films and music. Please cancel these licenses before you sell or donate your computer. |
The following data cannot be deleted:
| Data type | Comments |
| --- | --- |
| Extensions | Extensions can store data on your computer or in your Yandex account. To erase this information, delete the extension itself. |
| Site permissions | Go to the settings to delete handling rules for website elements (pop-up windows, microphone access, etc.) and exceptions for specific websites. |
| Data type | Comments |
| --- | --- |
| Extensions | Extensions can store data on your computer or in your Yandex account. To erase this information, delete the extension itself. |
| Site permissions | Go to the settings to delete handling rules for website elements (pop-up windows, microphone access, etc.) and exceptions for specific websites. |