Segments in Yandex.Direct
Yandex.Audience segments become available in Yandex.Direct immediately after their status changes to "Finished".
Retargeting lists that use Yandex.Audience
You can set impression criteria in ad networks using audience retargeting lists or user profile settings for ad groups when creating or editing an ad group. You can use Yandex.Audience segments when creating a rule set.

You can set complicated impression criteria, including Yandex.Audience segments as well as Yandex.Metrica goals and segments. For example, if you want to select from a Yandex.Audience segment the users that visited your site in the last 30 days, but did not make a purchase, then set these two rule sets as in the image.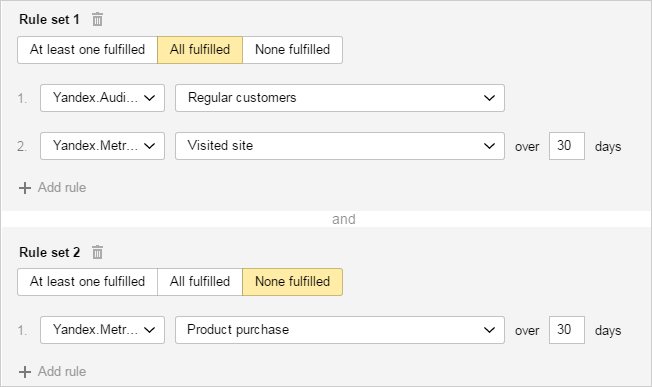 Read more about settings for retargeting lists and user profile.
Bid adjustments
Bid adjustments allow you to increase or decrease the cost per click for Yandex.Direct ads for a specific audience, such as one that corresponds to a Yandex.Audience segment. This setting can be adjusted under Bid adjustments in the Yandex.Direct web interface on the ad group editing page or ad campaign settings page.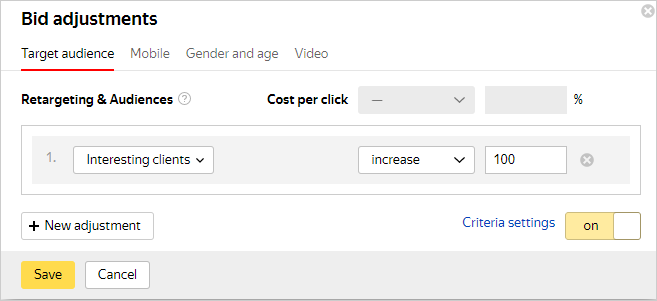 Read more about bid adjustments.
Statistics
Statistics for impressions and clicks for ads using retargeting lists and user profiles are available in the Report Wizard. On the My campaigns page, click Statistics for all campaigns and click the Report Wizard tab. Set the time period, and in Cross sections choose Impression criteria. Add the filter Type of impression criteria → retargeting lists or Type of impression criteria → user profile.

Read more about the Report Wizard.