Configuring the product list
The product list page displays products of a particular category. It features sub-directories, basic filters and sorting options.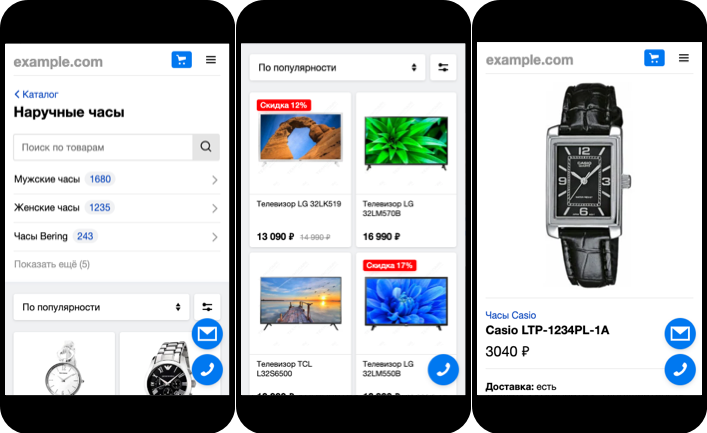 Product lists and catalog subsections are formed automatically from the YML file data. For example, if your online store has product list pages, the same listing pages will be generated as Turbo pages.
To form the product lists more accurately, set up the following:
Add the

«bread crumb»

markup to the main site using the

schema.org

micro murkup.

Make sure that the category names and nesting in the YML file are the same as on the main site.

Make sure that all products are passed in the YML files.
Links to product lists are displayed in the search results and in the product card «bread crumb».
How do I turn them off?
To disable the product lists:
In Yandex.Webmaster, go to the

page.

In the

Enabling product lists

block, disable this option.
Enabling payments
To turn on product lists:
In Yandex.Webmaster, go to the

page.

View sample pages with product lists in the example on the right.

In the

Enabling product lists

block, enable this option.

Примечание.

To work with product lists, you need to enable the ordering method.

Save your changes.
Connection statuses
You can track the connection status on the → → Connection status page in Traffic from search results to product lists.
Possible statuses:
— Processing in progress.

— Errors detected. Product lists are missing for some pages.

— Critical errors detected. Failed to generate product lists. The status occurs if:

Generating the store structure failed. To make sure the structure is generated successfully, follow the

recommendations

.

Some products are not passed in the YML file.

— Product lists successfully generated.

— YML file not found.