Feedback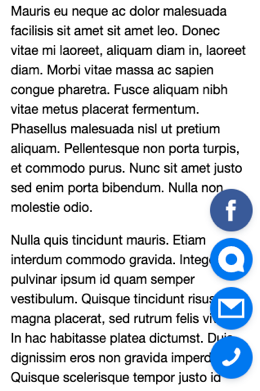 A set of feedback buttons displayed in the lower right or left corner of the window. You can add up to four buttons.
Setting up feedback
To add the feedback button:
In Yandex.Webmaster, go to the

page.

Choose the connection type and fill in the field.

Supported connection types:

Phone

Enter the phone number the user can call. For example, +7 012 345-67-89.

Mail

Enter the email address the user can send a message to.

Callback

Enter the email address to send the user's message to. For example, mail@example.com. The feedback form opens on top of the page content when you click the button.

The form fields are predefined:

You can add a link to the user agreement. It will be displayed under the form. To do this, fill in the fields in the User agreement block.

Example of the form display

Business chats

More about the Business chats technology.

To use a chat on the Turbo page:

In the Yandex.Dialogs service, create a chat for the site or individual pages.

To create a chat for the whole site, specify the domain of the source page for which the Turbo page is generated in the chat settings. You can also create a chat only for the source page. In this case, its address in the chat settings must match the address in the data source that you send through Yandex.Webmaster.

In the

Feedback widget

block, choose

Chat

as a communication method.

The chat will appear in the search results according to the schedule specified in the chat settings.

Messenger

You can set up a popular social networks messenger to open when the feedback button is clicked. Turbo pages support the following messengers:

VKontakte.

Odnoklassniki.

Facebook.

Google.

Telegram.

Twitter.

Viber.

Whatsapp.

In the settings, enter the link to the chat, channel or social network page (group, contact and so on). For example, https://t.me/example.

Use the sample Turbo page if the buttons work correctly.

Specify the icon positions.

Save the settings.