Home page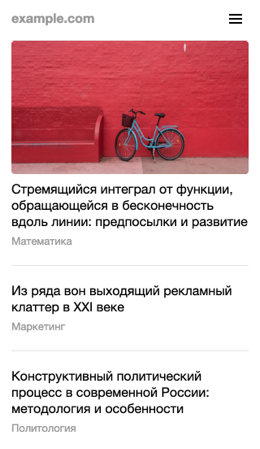 The automatic home page displays:
List of your site's pages. The list is sorted by relevance, taking into account publication date, and is updated every half an hour.

To create a list, you must have at least 10 published articles.
Connecting the main page
The steps for connecting the home page are described below:
If the Turbo pages are generated from the RSS feed, make sure that the publication date

pubDate

is specified for the articles:

...
    <item turbo="true">
        ...
        <pubDate>Tue, 21 Apr 2015 14:15:00 +0300</pubDate>
        ...
    </item>
...

pubDate

Publication time in the RFC-822 format.

If the Turbo pages are generated with Autoparsing, the publication time is detected automatically.

In Yandex.Webmaster, go to the

page.

Set the radio button to

On

.

Attention.

If subdomains are specified in the Yandex.Webmaster account for your website, then the automatic main page of your primary domain will also contain the materials from subdomains. To avoid this, move the subdomains with the content you don't want to appear on the automatic main page to any other account.

Save your changes.
The home page will start being displayed in search results within a few hours.