Embedding Yandex.Market widgets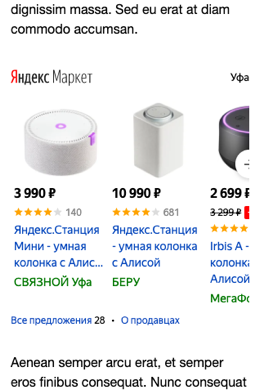 To place Yandex.Market widgets on a Turbo page:
Generate the widget code. For more information, see

Yandex.Market widgets

in the Yandex.Market Help.

Attention.

Turbo pages don't support the

searchSelector

and

searchImageSelector

parameters.

Add the generated code to the

<![CDATA[]]>

section inside the

turbo:content

element.

To insert multiple widgets on a single page, add the desired number of

script

blocks. The method described in

Inserting widgets into a site

doesn't work.
<turbo:content>
    <![CDATA[
        ...
        <script type="text/javascript">
            (function (w) {
                function start() {
                w.removeEventListener("YaMarketAffiliateLoad", start);
                w.YaMarketAffiliate.createWidget({
                    containerId: "marketWidget1",
                    type: "offers",
                    params: {
                    clid: 2310490,
                    searchText: "Яндекс.Станция",
                    themeId: 2
                    }
                });
                }
                w.YaMarketAffiliate
                ? start()
                : w.addEventListener("YaMarketAffiliateLoad", start);
            })(window);
        </script>
        ...
    ]]>
</turbo:content>