Expanding a business to the national (or international) level brings new challenges. For a company operating in multiple regions, keeping track of numerous campaigns, each with their own settings, can become a complicated and time-consuming job. The new Regional Bid Adjustment setting helps to simplify this task by allowing you to:
consolidate your account structure to just a few campaigns
base your bids in different regions on local conversion rates
easily switch your attention to regions where you want to better engage your target audience.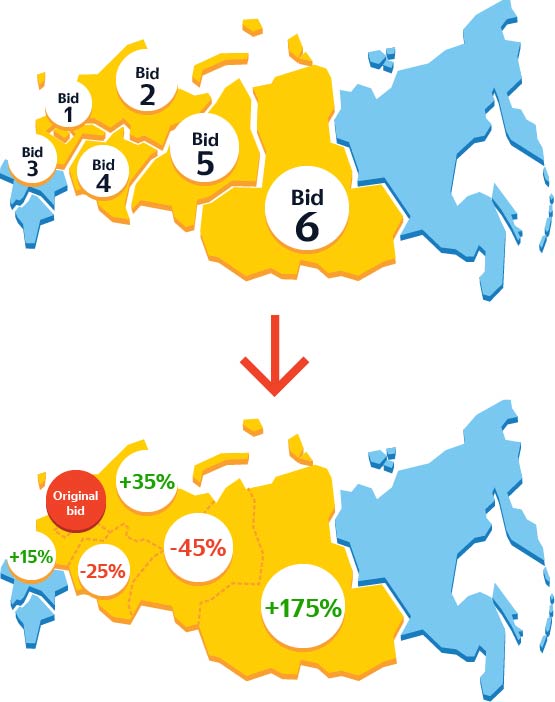 Bid adjustments can be set from -90% to +1200% to your original bid. If you combine different types of adjustments, they will be applied consecutively. Let's say you have an original bid of 100₽. You set a +10% adjustment for mobile users and +15% for users in Saint Petersburg. Your bids for mobile users in Saint Petersburg will be 126.5₽ : 100₽ + 10% = 110₽, 110₽ + 15% = 126.5₽.
Regional bid adjustments are set in the same window as your geotargeting settings. By default, they apply equally to all subcategories within a region, but you can also manually specify bid adjustments yourself.
Let's say that you run a bottled water delivery company in Saint Petersburg with a partner office in Moscow. In theory, you are willing to make deliveries to other cities in the regions surrounding Saint Petersburg and Moscow, but your main priority is to find clients within these two cities. You can set regional bid adjustments to a) raise your bids for users located in these two cities, b) lower your bids if users are located somewhere outside these cities. In this way, your regional bid adjustments help your bidding strategy reflect your overall strategy.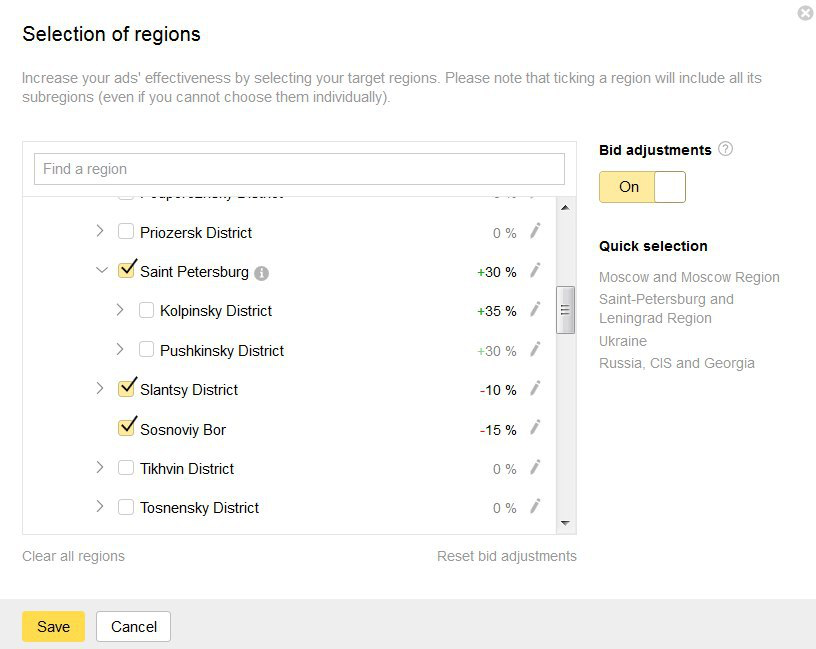 Regional bid adjustments can only be set at the campaign level. If an ad group's geotargeting settings differ from the campaign's settings (for example, your campaign targets Saint Petersburg and Moscow regions but the ad group is only set for the Saint Petersburg region), then the campaign level settings will determine whether bid adjustments apply to this group. In the example above, bid adjustments will apply if you select Saint Petersburg region or a location within it, or if both regions are selected. Bid adjustments will not apply if you only select Moscow region.
Impressions based on expanded geotargeting are an exception: if a user's search query mentions a region included in your geotargeting settings, then bid adjustments will apply to the region where your ad appears for this query. So if potential customers from Murmansk are interested in your business and search for office water delivery saint petersburg, your ad will participate in the Murmansk auction with a bid adjusted for Saint Petersburg and will appear in the position available for this bid.
In order for regional bid adjustments to work correctly, we made some changes to the way that regional display settings work. Previously, if you changed the geotargeting settings at the ad group level, this would reset the regional display settings. Now, the overall regional display settings remain unchanged, but an icon will appear to show that the subcategories of a certain region have different settings. To see which groups include this region, click the icon. Ticking the box next to the region will apply these settings to all groups in the overall campaign.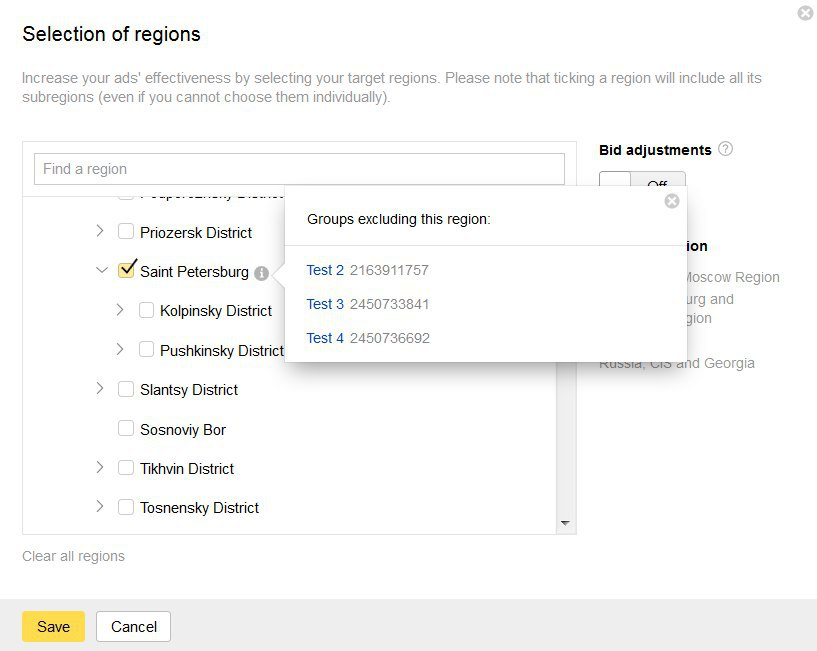 To find out more about how to configure regional bid settings, read the help section. Support for regional bid settings in the Direct API is also available.